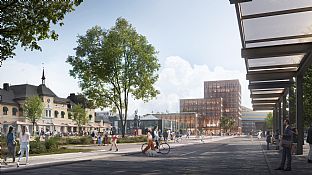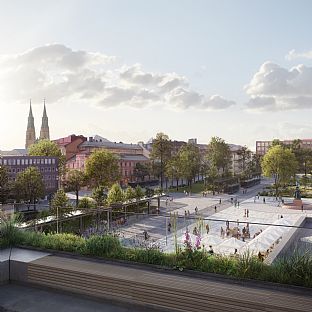 24.5.2022
Vision for the future of Uppsala C presented
The development plan for a new central station in Uppsala, Sweden, designed by C.F. Møller Architects together with the consultancy WSP, is presented today. A new development plan for Uppsala C will turn the heart of the city into a vibrant meeting place, as well as an efficient transport hub. The plan includes a new train station, the track area and the city centre adjacent to the station area.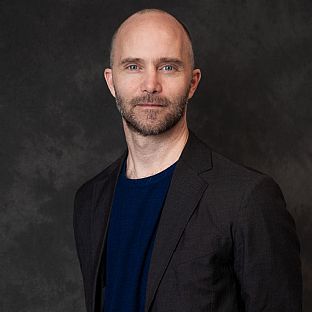 Uppsala is growing and more people are moving into the city, which means that new housing must be built and more businesses must be accommodated. At the same time, increased capacity for rail traffic to the area is essential for a prosperous and long-term urban development to be possible. Ostkustbanan (The East Coast Railway) needs two new tracks and public transport needs to be expanded, and at the centre of all this is Uppsala Central.

"We are delighted and honoured to have the opportunity to contribute to one of Sweden's most exciting urban planning projects in such close cooperation with the municipality's officials and politicians. The plan is based on Uppsala's great value as Sweden's leading university city, and puts people and sustainable mobility solutions such as cycling at the centre. Developing areas near stations and in the centre of the city based on location is one of the keys to sustainable urban development in the big cities of the future," says Mårten Leringe, partner and architect at C.F. Møller Architects.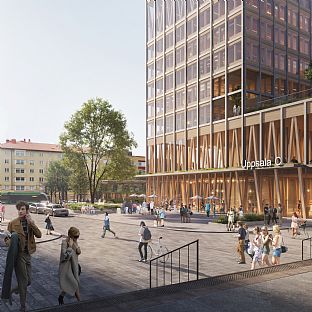 The development plan for Uppsala C is a long-term urban development strategy that goes hand in hand with Uppsala's goal of a cohesive, sustainable and attractive city It also support's Sweden's transport policy vision for a smooth, green and safe transport system. The vision for Uppsala C has been set in close dialogue with citizens, politicians and officials.

"Now we in the political arena are receiving a solid development plan for Uppsala C for further preparation. As the number of people in Uppsala increases, we need a larger central station with room for four tracks and more passengers, which is why it is important to make a decision on this as soon as possible," says Erik Pelling (S), Chairman of the City Council.

WSP has provided expertise in real estate development, commercial analyses, traffic planning and construction issues, as well as global expertise in areas such as roofing.

"We have had a very good collaboration in the project where we at WSP have been able to contribute with several specialist skills in combination with specific local knowledge and global expertise. Uppsala will continue its development and growth in the coming years and the development of Uppsala C will demonstrate the high ambition that the city has, an ambition where Uppsala should be at the forefront of urban development and create attractive and sustainable places for people, says Emelie Arnoldsson, contract manager at WSP.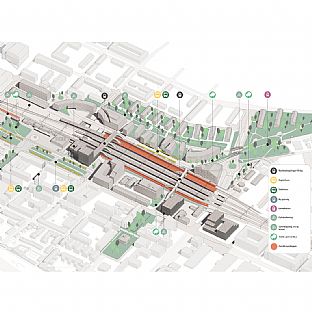 Double the number of train passengers by 2050

Every day, more than 100,000 people move within the station area, of whom around 45,000 travel by train. In 2050, Uppsala is expected to have up to twice as many train passengers, which is in line with the ambition for Uppsala municipality to be fossil-free by 2030 and climate-positive by 2050.

The development plan proposes a new station building with offices, station functions, meeting places, restaurants and shops, as well as a new modern bicycle garage for all Uppsala's commuters. With vibrant ground floors and frontage in all directions, a pleasant and safe place is created even during off-peak hours. Together with proposals for other additional office buildings next to Uppsala C, and a series of new site formations, safety is increased by creating additional movement around the area.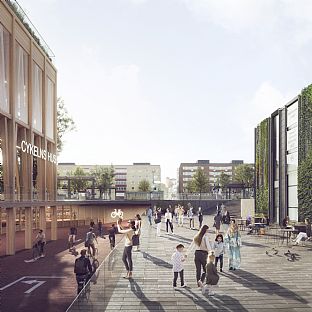 A future-proof plan with a focus on green strategies

The vision for the new station area is an vibrant, sustainable and green urban environment. Planning with green urban elements in mind is an important prerequisite for sustainable urban design and for the goal of slowing down climate change. The plan proposes a variety of green-blue solutions that together contribute to a socially, economically and ecologically sustainable city. For example, the station park is re-established as a place for people and greenery, and Bergsbrunnaparken is linked together with Frodeparken to form pathways through the station area.

The development plan thus describes a vision in which Uppsala C is linked to the city's destinations via green corridors. In connection with the station area, destination points and place formations are created where social interaction and business opportunities are central. The public environments provide a variety of activities where people of all ages feel comfortable and safe. Squares, streets and parks will provide a vibrant urban environment, while preserving existing natural values and adding new values such as integrated ecosystem services and quiet enjoyment.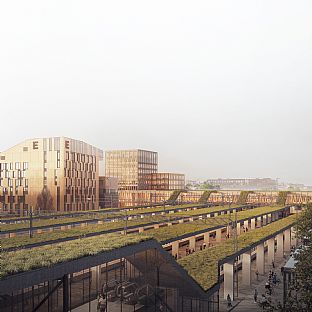 The next steps for detailed plans

Work on the development plan started in 2019, and in autumn 2020 C.F. Møller Architects together with WSP won an award in the urban development assignment Uppsala C "Uppsalapaketet", which is a collaboration between Uppsala municipality, the state and Region Uppsala. Jernhusen, Trafikverket and real estate developers have also participated in the working group.

A development plan is a concrete and indicative plan for the development of an area, which then forms the basis for detailed plans. Work on detailed plans will begin as soon as the municipal council has approved the development plan. The City Council will make a decision on 15 June.