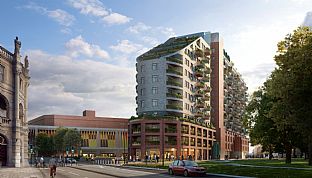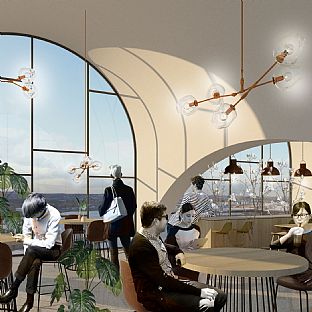 26.5.2021
Green light for transformation of iconic office building
C.F. Møller Architects and Lyall Bills & Young Architects' plan for transforming Mountbatten House, a landmark 1970´s office building, to high-quality residential and public use, including a new public plaza, receives planning approval from Medway Council.
Mountbatten House in Chatham is an initiative by Medway Council to transform a landmark 1970's office building into high quality residential use and to sensitively regenerate the centre of an historic town. Built as a custom-made office building for Lloyds Bank, it has been vacant for the past 10 years while its sister building, The Pentagon Shopping Centre, continues to trade. The development of 168 apartments and flexible retail spaces form a coordinated vision of urban regeneration that combines four design initiatives: the adaptive re-use of Mountbatten House, the design of a new extension building, temporary façade improvements to the old bus station, the creation of a new public plaza.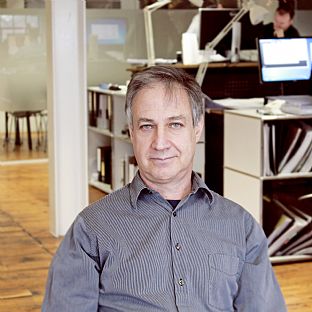 "We are very pleased that the proposals have been granted planning approval and are looking forward to continuing the work in collaboration with Lyall Bills & Young Architects and the Medway Development Company.  This combined team has brought a strong focus on sustainability, daylight and putting people in the centre of design, and we believe that this project will deliver outstanding homes and public amenities in the very heart of Chatham.  The regeneration and extension of Mountbatten House will provide another spark that propels Chatham into a more prosperous, sustainable and civic future," says Teva Hesse, Director C.F. Møller Architects in London.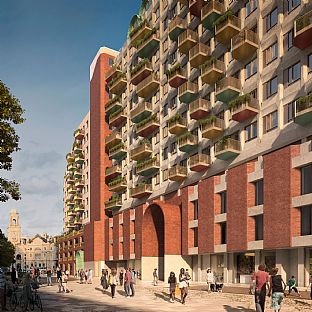 Bringing new life to an old building
Mountbatten House is a 12-storey office building constructed from an innovative slotted precast concrete technology above a crenelated brick plinth. Large east and west-facing windows that once sealed air-conditioned office floors will now provide generous amounts of daylight and natural ventilation to each residential dwelling. A variety of apartment types are to be provided, many double-aspect or through-units benefitting from east and west light. East-facing apartments will enjoy panoramic views of the Great Lines Heritage Park while west-facing apartments will overlook the town's civic centre and the Medway river.
Redundant floors of plant equipment will be stripped out to maximise the habitable footprint and provide shared amenity spaces for residents. All dwellings are provided with private amenity space in the form of generously-sized balconies.
Existing concrete façade panels will be restored to give a brighter finish. Brickwork will be cleaned and re-pointed to enhance the character of the original design. New chamfered balconies will be carefully inserted into the retained facades with coloured soffits animating the view from street level.

Key strategic views govern the height and shape of the new building. Cascading rooftop terraces of the 12-storey extension slope down dramatically towards a curved end above a deep colonnade of red brickwork. The design creates stronger visual connections to a historic theatre and an 18th century hillside fort.
54 new apartments will be provided within this building. By sharing common floor-to-floor levels with Mountbatten House all apartments benefit from enhanced internal room heights. The main concrete-panelled elevation to Mountbatten is a double-square. This relationship has been explored on the new-build façade by interpreting the square within the Golden Section. The objective was to arrive at a harmonious relationship between the two adjacent buildings and to make them read confidently as one ensemble. A deep colonnade is created at street level. This is fashioned as a red-brick 'haunch' which is three storeys in height in response to the elevational treatment to the Pentagon facade facing Military Road. Windows and balconies are achieved in a similar idiom and palette as Mountbatten House, with attractive inset balconies on the curved end and full-width terraces on the set-backs on the lower floors.

Below these floors at street level, recessed full-height glazing creates an outer colonnade of brick piers to the haunch and enclose commercial space and the entrances to the apartments above.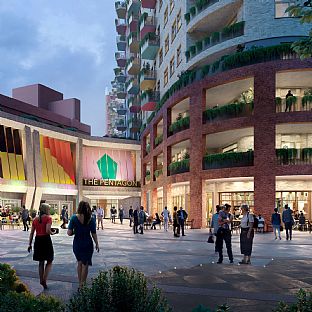 New vibrant public realm
A new vaulted rooftop structure on Mountbatten House will transform and disrupt the flat roofline of the building and provide public amenity in the form of a double-height events space that offers fantastic views of the town centre, historic landmarks and long views across the Medway.

The removal of long access ramps to a disused bus station will allow an enhanced public realm to sweep into a new town plaza designed to act as a forecourt to the Brook Theatre and as a new threshold to the Pentagon retail centre. Active frontages in the form of cafés, restaurants, market stalls and pop-up shops will create new opportunities for the commercial, social and cultural dynamic of the town centre.
"We are delighted to be collaborating with C.F. Møller on this fantastic design project. We really enjoyed working on the competition together in 2019, and developing our winning design over the past year has revealed a wonderful shared approach and synergy between the directors and architects in our united firms. We are lucky to have a very enlightened client, and we look forward now to the detailed design period and the construction" says John Lyall, Director at Lyall Bills & Young Architects.

Improved sustainability
The energy performance of the existing building will be greatly improved by introducing high performance thermal insulation within the retained building fabric combined with a communal air source heat pump system to supply space heating and domestic hot water. The utilising of the building fabric, passive measures and natural ventilation will avoid active cooling and minimise carbon emissions. Rather than demolishing a redundant building and creating waste material, the adaptive re-use of the Mountbatten House's structure, cladding and embodied energy, the innovative re-use of its internal spaces and the provision of a variety of new external amenities allow the repurposing of the building to serve future needs.
Construction is expected to begin in 2022. The overall construction cost is about £30 million.
Location: Town Centre, Chatham, Kent
Local Authority: Medway Council
Client: Medway Development Company
Architects: Lyall Bills & Young and C.F. Møller Architects
Landscape Architects: C.F. Møller Architects
Planning Consultant: DHA Planning
Structural Engineer: BDP
M&E Consultants: MLM / SWECO
QS: Medway Development Company
CDM: Lyall Bills & Young