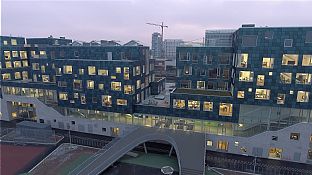 9.1.2017
Copenhagen International School moves into its new building
Finally, the big day has arrived: completion of the construction of Copenhagen International School's innovative new school building in Nordhavn (the North Harbour), Copenhagen, which has been underway since January 2015. Today, the school's pupils and teachers will move into their new "home".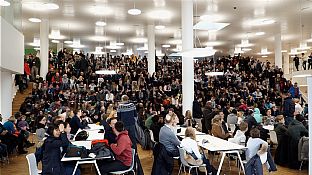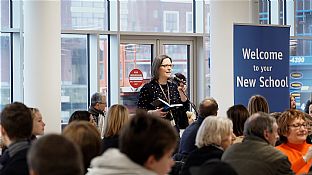 When Copenhagen International School's pupils and teachers broke up for Christmas in December, they not only wished each other a happy Christmas, but also had to bid a final farewell to their old classrooms in Hellerup and Østerbro, respectively. Today, the pupils will attend their first school day in their large new school building in Copenhagen's Nordhavn quarter. "We've really been looking forward to this day as it marks a key milestone in the school's history. We've now moved into one single, ultra-modern school building, in which we can further develop the school and welcome new Danish and international pupils," says Jennifer Weyburn, the school's director. The school currently has 930 pupils, aged 3-19, and 180 teachers. The new school building can accommodate 1,200 pupils and 280 teachers.
Sustainable and innovative construction
The 25,000-sq.m. school building is located right on the waterfront in Copenhagen's Nordhavn quarter. The new building's precise location at Levantvej Vest in Nordhavn is on a man-made peninsula – surrounded by the sea and coming green areas, and close to the planned new metro station in Nordhavn that will open in a few years' time. The building comprises four towers, stacked asymmetrically on the building's base. The four towers are designed to match the pupils' age and grade levels: Early Years, Primary School, Middle School and High School. Another unique aspect of the school building is the façade, consisting of 12,000 solar panels, covering a total area of 6,048 sq.m., making it one of Denmark's largest solar panel systems integrated in one building. "It's quite fantastic that we can offer a school building that combines innovative architecture, design on the pupils' terms, and sustainability, in a very distinguished way," says Brit van Ooijen, chair of the board of Copenhagen International School.
End of an ambitious project
The Property Fund Copenhagen International School, which collaborated with C.F. Møller on the school building's construction,also expresses great satisfaction that the pupils have now moved into the new building. "This is a major, very ambitious, project, which naturally also presented some challenges along the way. We're really pleased that we can now see the final result being put to use by the school's pupils and teachers," says John Bo Jacobsen, chair of the Property Fund, Copenhagen International School.
The school will be officially inaugurated with an opening ceremony at the beginning of March.
Gallery