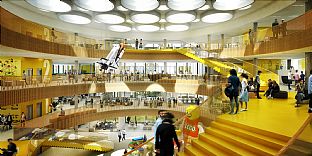 6.7.2016
The LEGO Group shares C.F. Møller-design
Workplace and fun place. Collaborative space and play space. Those are some of the features integrated in the new LEGO® building complex serving as global gathering point in the LEGO Headquarters.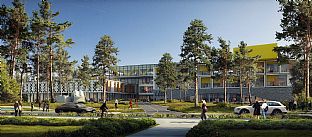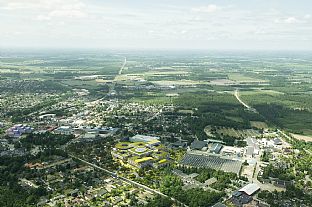 A clear and innovative expression of what LEGO® play is all about. That is one way to describe the distinct new office building, which the LEGO Group plans to build in Billund, Denmark.

From the collaborative workspace inside and to the public park that surrounds it; from the welcoming and informal feeling in LEGO People House to the grand and colorful space in the atrium; from architectural features modelled over known LEGO elements to an interior with bright colors and open space, the building will have a distinct LEGO feel.

"We want a distinct office building that clearly conveys the LEGO values, and which truly expresses the creative, innovative culture of our company.  I am very excited that we can now present our vision for this new building, both to our employees and to the community," says Claus Flyger Pejstrup, Senior Vice President at the LEGO Group, and responsible for the LEGO Group Headquarters in Denmark.
LEGO® People House as employees want it
An integral part of the new office building is LEGO® People House; an area housing facilities for various activities, all based on input from LEGO employees. As such, the new office building will serve as both workspace and play space for LEGO employees.

"LEGO People House creates a unique social environment that serves as a vibrant, global gathering point, not only for the employees working there on a daily basis but also for the many LEGO employees from the rest of the world, when they visit Billund. It will house exciting facilities, where employees can be physically active and socialize, both during and outside working hours. It is our clear intent that the atmosphere will be both informal and inspirational, making it ideal for employees to get together with colleagues from around the world," says Claus Flyger Pejstrup.
Read the full LEGO press release here
Facts: New main office building in Billund
Total area: 52,000 square meters
Architect: C.F. Møller
Consultative engineer: Niras
Builder: KIRKBI A/S

The building will have an architectural shape to provide optimal daylight conditions for the total office space. Furthermore, the building is constructed to ensure low energy consumption and to enrich the structure with internal yet outdoor green courtyard areas. The new office building integrates with the master plan for Billund Municipality. 
A place for collaboration and play
"The new complex will be the place where disciplines meet, experiences are exchanged, new ideas are born, and inspiration is encouraged. Along with its embracing landscape, the project embodies the feel, flavour and function of the classic campus" says Klaus Toustrup, partner and CEO in C.F. Møller Architects. "Working closely with LEGO and their staff, we have made sure that the project is all about openness, quality and all-round sustainability – all of them core LEGO values, and we have emphasized this in an architecture designed as a place for collaboration and play, for both employees and the public".