45 new homes on the waterfront in Aalborg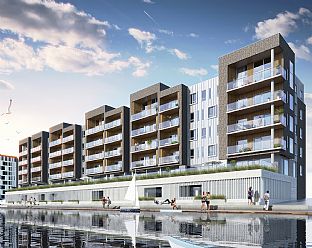 29.2.2016 | Groundbreaking: Construction has started on the harbourfront in Nørresundby. These homes kick-start the development of the city's North Harbour area and will be ready at the North Harbour Promenade in 2017.
With a direct view of Aalborg's skyline, during the next few years 45 high-quality flats will be built at Nordhavn in Nørresundby. On 29 December, Aalborg's Mayor Thomas Kastrup-Larsen turned the first clod.

C.F. Møller has designed this project, which is called "Brolandingen" (the bridge end), and is the first major step in the urban development of the harbourfront in the area. The first 45 homes will be owner-occupied flats, but the area's housing diversity is also ensured, since the construction of these homes will be followed up with around 100 new homes for young people, built for Nørresundby Boligselskab in a coming additional stage. In addition, an agreement has been reached with COOP for the construction of a supermarket, which will also be delivered in 2017.

Recreational area
The aim of the entire Brolandingen project is to create a versatile area for recreational activities at the old industrial port, with homes, a sports pitch, fjord steps, seating areas and fishing opportunities.

"Aalborg Port epitomises the entire city's development. This is where thousands of Aalborg's people have worked over the years," says the head of C.F. Møller's Aalborg department, Søren Tortzen.

"The 45 homes have a unique location at the edge of the pier, with the Liim Fjord on one side, and the inner harbour on the other. The project is based on the area's history and offers homes at one of the city's most attractive locations," he says.

Underwater activity
The groundbreaking has marked the start of construction of the first 45 homes as part of Brolandingen, but the construction work at Nordhavn has actually been underway for some time. So far, however, all activity has taken place below ground, as a number of things need to be in place before building on a harbour pier close to the quayside.

This involves piling with bored pile walls down to a depth of 40 metres, and hammering down sheet piling, before the construction work above ground can commence.

In recent years, C.F. Møller has exerted great influence on the overall development of the harbour promenades in the Aalborg area. In several stages, the architectural practice has undertaken the transformation of Aalborg's Harbourfront, and C.F. Møller also designed the development of the entire Nordhavn area in Nørresundby.

TN Udvikling is responsible for the development of the area, while C.F. Møller, Raundahl & Moesby and Niras cooperate with the development company. The first stage with 45 homes will have an area of 5,700 m². Overall, Brolandingen will have a total floor area of 15,700 m².