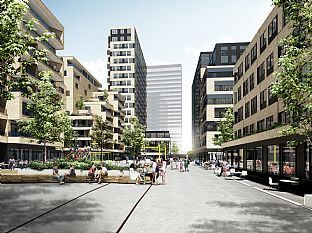 11.5.2017
AARHUS' NEW QUARTER, FREDERIKS PLADS, IS BEGINNING TO TAKE SHAPE
Frederiks Plads is a new quarter of Aarhus, designed by C.F. Møller Architects, and the topping-out ceremony on 11 May means that the quarter is now beginning to take shape. The project includes a 24-storey block of flats.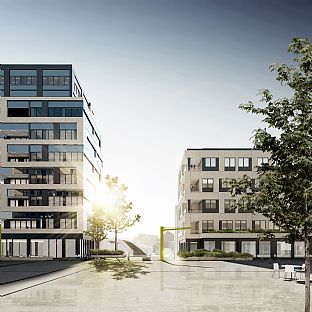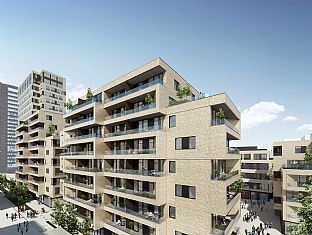 Frederiks Plads in Aarhus is centrally located behind Bruuns Galleri in the heart of the city, and now this area is being transformed into a new green urban quarter. For one hundred years this area previously housed the Danish State Railways' workshops.

"The aim is to create a new urban quarter with a green oasis as a hub opening up towards the city, intersected by pedestrian precincts with cafés and shops at street level, featuring e.g. a market square atmosphere in the summer and a skating rink in the winter," says Michael Kruse, architect and partner at C.F. Møller.
Mixed quarter with maximum sunlight
The new urban square will be surrounded by a mix of residential and commercial premises, at elevations closely matched to the surrounding city - starting with six storeys of commercial space close to the adjacent quarter of  Frederiksbjerg's classical redbrick blocks from the start of the 1900s, and concluding in fine style with two towers. One of the towers will rise to 12-16 storeys of commercial space, while the other 24-storey tower will hold around 250 flats. Between these lie a row of terraced residential buildings with either balconies or rooftop terraces, of which the rising elevation will maximise the sunlight in the flats and make the most of the view of the bay and the forest. A two- to three-storey underground car park for residential and commercial use will also be established.
Matched to the site and its history
The seven buildings in total are as varied as the surrounding city, but also have a general architectural affiliation in terms of form and materials, including the use of brickwork, which is also a reference to the site's historical buildings, i.e. the preserved DSB workshops and Aarhus Central Station from the 1920s, in the immediate vicinity of Frederiks Plads,

"We have focused strongly on creating a square and buildings that are matched to the site, so that Frederiks Plads has its own green character and becomes a city within the city, while engaging in a familiar dialogue with the surroundings and the history linked to the square and to Aarhus," says Michael Kruse.

The topping-out on 11 May was for the first stage of the construction project, comprising12,000 sq.m. of homes that are planned to be ready for occupation in October 2017. The overall construction project is expected to be completed in 2020.
Gallery