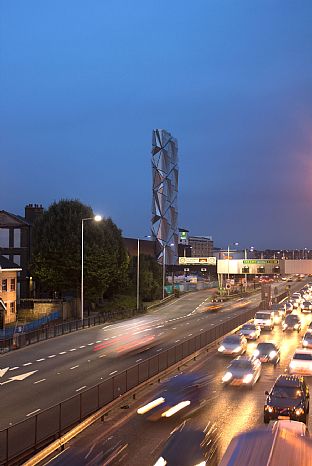 27.9.2016
Artwork in C.F. Møller project has been launched
British artist Conrad Shawcross launches 'The Optic Cloak', a major new artwork in collaboration with C.F Moller Architects.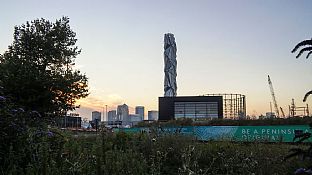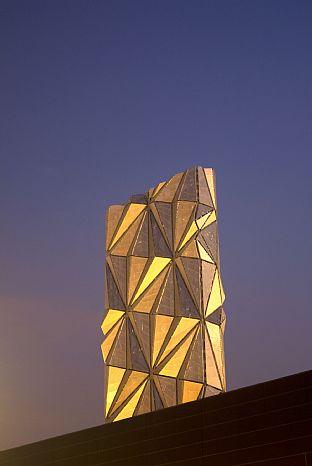 A fusion of art, architecture and technology, the C.F. Møller designed Greenwich Peninsula Energy Centre will be operational later this autumn, to provide low-carbon power and hot water to more than 15,000 homes, businesses, retail units and creative hubs that will be built on the Peninsula.
New Landmark
Nine flues, each reaching 49m in height, have been arranged in a line to form a slender tower or 'blade' as a vertical counterpoint to the monolithic horizontal black box containing the boilers, accumulator tanks and CHP engines. This vertical tower has become the canvas for an integrated artwork by the British Sculptor Conrad Shawcross. Conrad's work unites sophisticated engineering and complex optic research into interference patterns that fragment and dematerialize the massing of the tower structure; the abstract form enhances the gateway to Greenwich Peninsula and is a distinctive landmark for the local and wider community. The design uses both First World War 'dazzle camouflage' - the paradox of camouflage whereby objects that are supposed to be hidden are in fact made both more visible and arresting – and ideas found in Cubist and Futurist paintings in which an object's surface is broken up, creating false perspectives and vanishing points. In the evenings the tower will be lit from within, continually redefining the shape of the structure and its surroundings.
Demystifying design
A visitor centre will offer an interactive and educational experience for prearranged groups of visitors. The intention is to demystify the process of energy generation, and demonstrate the low carbon and sustainable infrastructure that will supply the Greenwich Peninsula. This project represents C.F. Møller's first realized collaboration with an artist in the UK, - We have embraced Conrad's vision and ideas as an integral part of the building, and his team have similarly understood our views about the proportion, materiality, composition and sustainability of the energy centre. Conrad's work has brought a new dimension to the project and how could we be less than delighted with that" says Rolf Nielsen, Associate Partner at C.F. Møller Architects. Another work by C.F. Møller Architects in Greenwich Peninsula is 'The Moore' – a 10-storey building for residential use. The project is nominated for a BDA Brick Award 2016 as one of two nominations for C.F. Møller at this year's Brick Awards, the second nomination being a housing project called Elmwood Court in Battersea, London.
More on Brick Awards nominations.
More on Greenwich Peninsula Energy Station.
More on 'The Moore'.
More on Elmwood Court.

Gallery