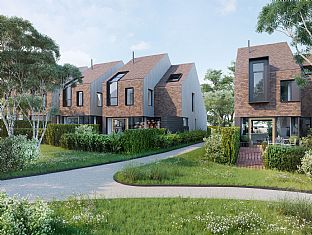 25.6.2019
Awarded 'Best Conceptual Design'
We are happy to tell that our Golden Mede Housing project for the Rothschild Foundation was awarded Best Conceptual Design at the S.ARCH (Sustainable Architecture) Awards 2019.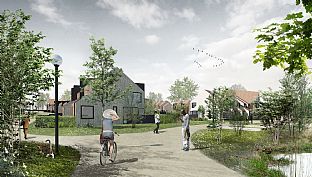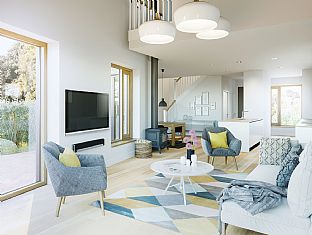 The Golden Mede Housing project is two new housing estates in the rural village of Waddesdon of 2,000 inhabitants, just over an hour's drive from London.
The focal point of the village is Waddesdon Manor, a stately home built in the Renaissance style by Baron Ferdinand de Rothschild between 1874 and 1885. Waddesdon Manor is the cornerstone of the Rothschild Foundation, which has a significant presence in the UK's philanthropic landscape. The foundation is financing the rural development project, which includes the two new housing estates.
New park as the centre
The design strategy of the project is to create a central park, to bring the natural environment into the heart of the new housing districts. Paths and lawns will invite other villagers to use the park.
The housing units are mostly two-storey terraced houses grouped in small clusters, which all face the common. Characteristic sloping roofs and stunning attic windows give these houses a special identity in the village, and the materials of the façades – tiles and light-coloured brickwork and timber – have obvious links to the traditional architectural style of Waddesdon.
The open gardens and terraces in front of the houses clearly reflect a desire to create residential housing that is more open than traditional English homes with enclosed gardens. To the rear of each unit there is access to a private patio (a garden which looks out onto the central park area). There is also special focus on keeping motorised traffic to a minimum within the residential areas. There are few access roads and no through traffic.
About S.ARCH
The S.ARCH (Sustainable Architecture) is an international annual platform where practicioners and researches meet and exchange knowledge, insights and experience on cross-disciplinary field of architecture and built environment.