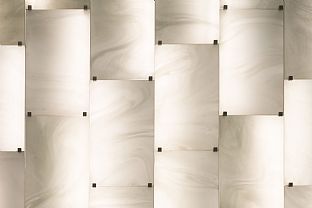 30.8.2019
Awarded for Artwork
C.F. Møller Architects win a CODAaward 2019 for best site-specific artwork in the category Healthcare with Biomedicum in Stockholm.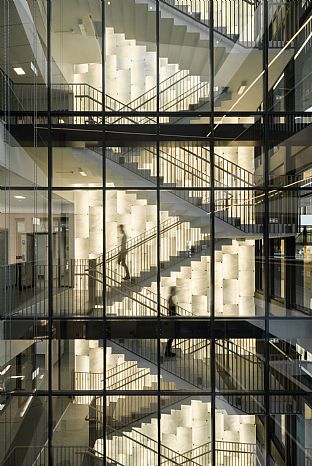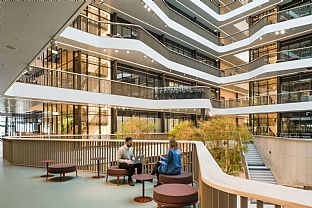 The new laboratory building, Biomedicum, is to be the powerhouse for research at the Karolinska Institute in Stockholm, one of the world's leading medical universities, known amongst other things for selecting the recipients of the Nobel Prize in medicine and physiology.
Biomedicum consists of four buildings, with laboratories built around an eight-storey high atrium wrapped in a transparent double-shell façade. Through the glass-covered atrium, the campus' outdoor space continues through the building, reinforcing its green and social qualities - which ultimately benefits the sharing of knowledge and cross-disciplinary work. 
Artistic stairwell
As a guide, four stairwells, one for each block, are distinct in the corners facing the atrium. An illuminated wall covered with 1,000 square meters of mouth-blown glass extends up the entire staircase and creates beautiful lighting in the stairwells, inviting use and movement. The glass comes from Lamberts Glashütte in Germany. Both installation and lighting were completed by Derix and light designer Arne Fiedler, steered by C.F. Møller Architects. Early in the planning stages, Akademiska Hus allowed for the building of a real size mock-up, spanning the size of one entire floor, that allowed the entire team of architects and fabricators to make adjustments, test the mounting and light, and that left everyone inspired and enthusiastic about the project. It  is for this artistic work that C.F. Møller Architects win a CODAaward 2019 in the Healthcare category.
About CODAawards
The internationally acclaimed CODAawards celebrate the projects that most successfully integrate commissioned art into interior, architectural, or public spaces.
Entries are reviewed by a jury of thought leaders in the design, architecture, and art worlds. Our jurors evaluate each entry on three unique criteria across ten categories:
• The integration of commissioned artwork into site-specific projects.
• The strength of the collaborative process among the creative teams, commissioners, and industry resources.
• Each winner will blend the art and design seamlessly to create a place as art, rather than a place with art.
Client: Akademiska Hus
User: Karolinska Institutet
Gallery