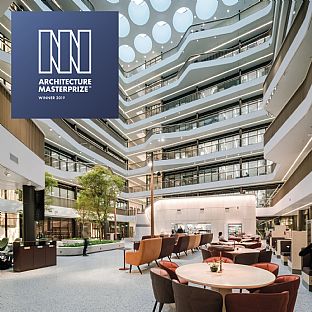 25.9.2019
Awarded for Design and Healthcare Architecture
C.F. Møller Architects win an Architecture MasterPrize 2019 for best Healthcare Architecture in the category Architectural Design with Biomedicum in Stockholm.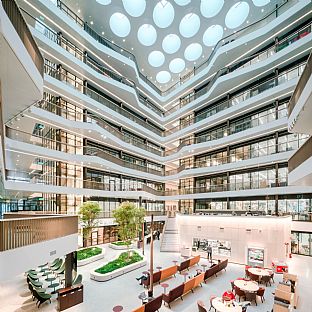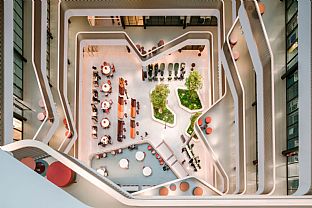 The new laboratory building, Biomedicum, is to be the powerhouse for research at the Karolinska Institute in Stockholm, one of the world's leading medical universities, known amongst other things for selecting the recipients of the Nobel Prize in medicine and physiology.
Biomedicum consists of four blocks, with laboratories built around an eight-storey high atrium wrapped in a transparent double-shell façade. A single unifying environment for future research, with ultra-flexibly equipped laboratories and office facilities that will act as a catalyst for cross-cutting collaboration.
The new centre has already won important awards. In August 2019 it received a CODA Award in the Healthcare category and in March it was awarded "Årets Bygge", Building of the Year. Biomedicum also received an honorable mention from "Glaspriset" for integrating art in the building.
"Biomedicum is an amazing building that provides the conditions for world-class cooperation and research! We are very proud of the finished project and the prestigious award!", says Vendela Martinac, Head of Stockholm Branch and Architect at C.F. Møller.

C.F. Møller Architects are forerunners when it comes to research and healthcare buildings. Examples of this is the Maersk Tower, a research complex for the University of Copenhagen which has also received many awards, the Aarhus University Hospital in Denmark, Haraldsplass in Norway and projects in progress such as the Springfield Hospital in England, Tampere in Finland, Danderyd in Sweden and an expansion of the listed and iconic University Hospital RWTH in Aachen, Germany.

About the Architecture MasterPrize
The internationally acclaimed Architecture MasterPrize™ (AMP) honors designs in the disciplines of architecture, interior design, and landscape architecture with the goal of advancing the appreciation of architecture worldwide.
Each submitted design was evaluated by the esteemed AMP Jury, and the best projects were selected across 42 categories. The AMP celebrates the very best in design excellence and innovation from the worlds of Architectural, Interior, and Landscape Design. The awards program is dedicated to showcasing and promoting exceptional talent, and the value of the art and science of architecture in enriching our lives.
A jury of esteemed architects, industry professionals and academics consider entries in 41 categories across the disciplines of architecture, interior design and landscape design. The AMP is honoring and awarding the talents of those who push boundaries and set new standards, who turn the ordinary into the truly extraordinary and inspire others, today and for generations to come.
Client: Akademiska Hus
User: Karolinska Institutet
Gallery