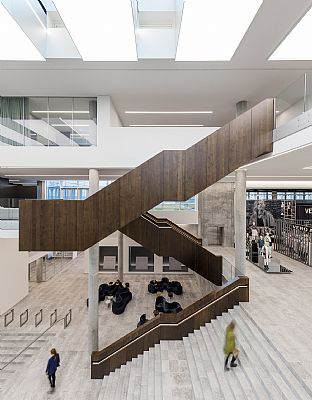 1.3.2016
Bestseller office complex wins WAN Award 2015
C.F. Møller's new-built office complex for fashion group Bestsellers in Aarhus has been awarded with one of the world's finest architectural awards.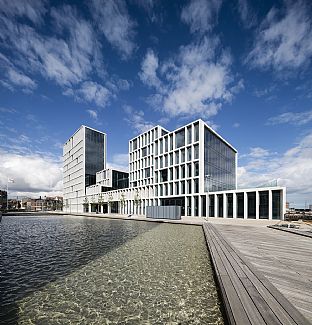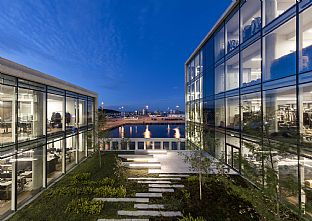 "It's a clear winner for me, an amazing commercial space." John Drew, Principal at Pringle Brandon Perkins+Will summed up the jury's conclusion to announce the Bestseller office complex, designed by C.F. Møller, as winner of the WAN Commercial Award 2015.
Sustainability matters
The jury's brief was to find only one winner from a fine array of commercial projects from across the globe. After much discussion and debate the jury decision was unanimous in favour of the Bestseller Office Complex, as jury member Kent Jackson from Skidmore, Owings & Merrill states: "The spaces and the roof terraces are very impressive, a real standout winner". The sustainability was another aspect that impressed the judges. The office complex uses sea-water cooling and solar heating ensuring energy consumption 50% lower than the minimum requirements stated in the building regulations. "The fact that the energy consumption is 50% less than code is another plus", says Kent Jackson.
Sympathetic to the City
The complex is a mix of office, shared facilities and outdoor spaces, creating the impression of a town within a town. The complex, surrounded by canals and lakes on all four sides, also forms the entrance to the new, urban district on the waterfront in Aarhus, Denmark. "This office building by C.F. Møller stands out from the others as a sophisticated response to its context. The strategy of breaking a large volume into linked smaller parts helps to integrate the building into the existing surroundings because the scale of the component parts is sympathetic to the old town nearby" explains Matt Yeoman from BuckleyGrayYeoman. Bestseller's new offices where completed in 2015, and received the Aarhus Municipality Architecture Award in the same year. World Architecture News (WAN) launched in 2005 and is now the world's leading supplier of news to the global architectural community. The yearly WAN AWARDS celebrates the best in architectural design, as the largest award of its kind, attracting entries from all over the world with over 1500 outstanding projects in different categories this year. In the final shortlist, the Bestseller complex was up against competitors such as the Novo Nordisk HQ by Henning Larsen architects, the Believe in Better Building by Arup and the Lanserhof Clinic Tegernsee by ingenhoven architects.
More about the Bestseller office complex
See the full press release here

Gallery
17.3.2016
C.F. Møller's proposal for the new Bispebjerg Hospital has been named the winner of the prestigious MIPIM Architectural Review Future Projects Award, which is presented at the international MIPIM Real Estate show in Cannes.