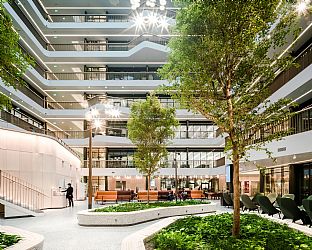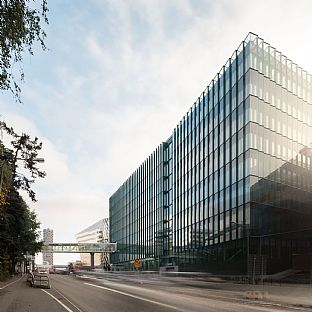 30.1.2020
Biomedicum is in the final at Cannes
Biomedicum, the new research powerhouse in Stockholm, is selected as a finalist in this year's MIPIM Awards in the category Best Healthcare Development.
MIPIM Awards 2020 received over 228 entries from 45 countries around the world.
The MIPIM Awards Jury met on January 23rd in Paris to evaluate all the entries and decided on Biomedicum in Stockholm as a finalist as the only project in Sweden to make it to the finals.
- We are very pleased to receive this nomination. The project is a result of great teamwork at C.F. Møller Architects and an inspiring collaboration with the client, Akademiska Hus, the users from Karolinska Institutet and interior designers from Nyréns Arkitektkontor, says Mårten Leringe, Partner, Managing Director and Architect at C.F. Møller in Stockholm.
The project was completed ahead of time and below budget.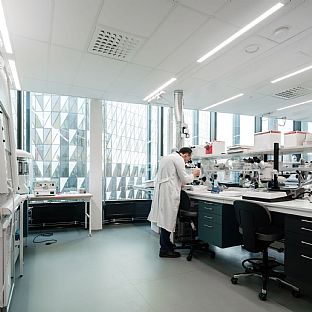 Powerhouse for research
The new laboratory building, Biomedicum, is a new powerhouse for research at the Karolinska Institute in Stockholm, one of the world's leading medical universities, known amongst other things for selecting the recipients of the Nobel Prize in medicine and physiology.
Previously, the research environments of the Karolinska Institute were scattered throughout the campus - a green park area with red brick buildings dating from the 1930s. With Biomedicum, the Karolinska Institute will gain a single unifying environment for future research, with ultra-flexibly equipped laboratories and office facilities that will act as a catalyst for cross-cutting collaboration between the various research and study environments.
Integrating indoor and outdoor
The new construction is not only intended to provide a building in the campus park, but also to accommodate the park within the building. With a glass-covered green atrium, the outdoor campus area is continued through the building, thereby reinforcing the social qualities of the green campus to the benefit of knowledge-sharing and interdisciplinarity.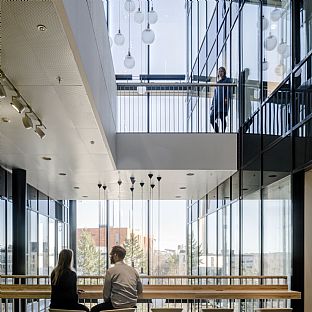 Supporting collaboration and innovation
The building's connectivity, created amongst other things by way of a transparent, inviting ground floor with access to the atrium as well as a café and public exhibition space, also forms new linkages through the campus, connecting Karolinska Institute and the new university hospital, Nya Karolinska Solna (NKS). The building provides a wide range of formal, and informal meeting places, in order to support collaboration and innovation across the institute and the hospital.
Client: Akademiska Hus
Tennant: Karolinska Institutet
Architect: C.F. Møller Architects
Interior: Nyréns Arkitektkontor
Landscape: Landskapslaget AB
Construction: Skanska

About MIPIM Awards
Created in 1991, the MIPIM Awards is an internationally-renowned real estate competition at MIPIM, the world's property market held from 10 to 13 March, 2020 in Cannes.

It honours the most outstanding and accomplished projects, completed or yet to be built, around the world, the very best of the real estate industry.
The finalists
The winner in the Best Healthcare Development category will be revealed during the festival in March.
The finalists in this category are: 
Biomedicum, Stockholm, Sweden. Architect: C.F. Møller Architects
CHIREC Delta General Hospital, Brussels, Belgium. Architect: ASSAR Architects
Kommunarka hospital, Moscow, Russia. Architect: TPO Reserve Company
Viborg A&E unit, Viborg, Denmark: Architect: AART Architects, Sweco Architects