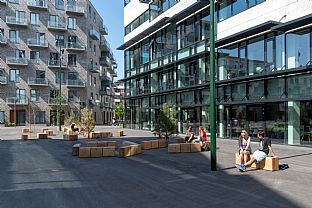 4.12.2018
Brewery site made livable in Denmark
C.F. Møller Architects transforms old Danish brewery site into a new vibrant hood in Aarhus.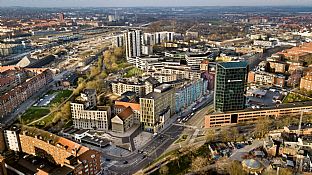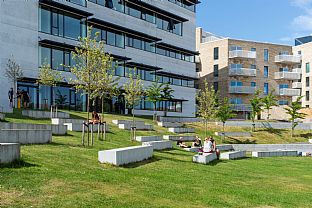 All over the world the bigger cities have smaller pockets with unused space as leftovers from a more industrial age. These pockets are slowly being transformed into new and highly livable neighbourhoods covering both a great history and a prospect future for the citizens by solving a constant crave for housing and common spaces. In Aarhus, Denmark, such a pocket has just been filled with livability by C.F. Møller Architects who did both the masterplan, the regulation plan and part of the housing.
"The masterplan seeks to avoid the linear, repetitive and unformal density of many modern urban developments, in favor of an urbanism of varying densities, mixed uses and contrasting and surprising sequences of spaces – inspired by the medieval European city centres", explains Klavs Hyttel, partner and architect at C.F Møller Architects.

Mixed-use as pivot point
In short, the multi-disciplinary architectural company has transformed the former Ceres Brewery site in central Aarhus into a mixed-use urban area with commerce, housing, education, cultural spaces and urban park.
The site, with the important location adjacent to the river, have for decades been a 'missing link' in the urban fabric. The transformation has realised the potential for new connections and shortcuts between attractive neighbouring areas, including the new cultural hub of the former rail yards, the community centre 'Folkestedet' (People's Place), the central public spaces along the river, and the green belt connecting to lake Brabrand. This connectivity, and the historical industrial buildings on the grounds, are now the outset of a varied sequence of urban spaces, squares and green parks defining the new town part.
The key is a strong concept
C.F. Møller Architects are also responsible for the design of two housing projects on the site. Both projects are aimed at students and young families and consist primarily of two and three bedroom apartments that are easy to share. The court yard of each housing complex offers residents a green, recreational space.
"We are very happy to see this project completed in a remarkably short time span of ten years almost exactly as we planned it and the overall plan had the strength to invite other architects to contribute with commercial, educational and housing projects. To me this underlines the value of our integrated design approach of valuing public space as much as buildings, to deliver a different type of urbanism", says Klavs Hyttel.
More masterplanning projects
C.F. Møller Architects is currently involved in series of masterplan developments, in Denmark, Sweden, Norway and the UK, and in addition has won new masterplan assignments in Germany and Ireland recently.
Facts
Client: Royal Unibrew
Size: 140000 m² floor area (8 ha. site), 1126 homes, 2000 parking spaces
Construction: A. Enggaard
Engineering: Niras
Architect: C.F. Møller Architects (masterplan), C.F. Møller Architects, Arkitema, SHL, Sahl (building plots)
Landscape: C.F. Møller Landscape, Arkitema
Gallery