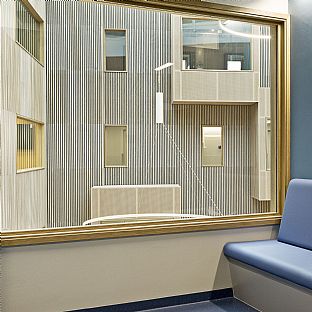 Building Better Healthcare recognises excellence in healthcare architecture, estates and facilities management, interior design, and product innovation. 
Winners of 2019 Building Better Healthcare Awards were announced at a ceremony in central London on Wednesday and C.F. Møller Architects' Haraldsplass New Ward Building won in the category Best Healthcare Development (international),
- We are very pleased to win this award. The best award is to have had a magnificent cooperation as a team with our consultants from the beginning of the competition to the end result, and most important; with the client and user! We strive to improve life for people and planet in every project we do, and this time we managed as a team to really optain this. Healthcare has been a natural and central part of C.F. Møller Architects for many years. We are constantly innovating by combining our heritage with new knowledge and modern building technics and we are very pleased when this gets recognition from both users and colleagues, says Christian Dahle, Partner and Architect at C.F. Møller Architects.
The Haraldsplass Hospital new ward building
The new building with wards, emergency room and common hall is located in front of the original hospital, built in 1940, between the foot of Ulriken and the Møllendalselven river, and the building's design follows the river's course. All patient rooms enjoy a view of the city and valley through large windows that are adapted to the viewing angle from the patients' beds.

- C.F. Møller Architects has an excellent understanding of hospital layout and trends, and the complex functions and logistics needed in a hospital. The architects involved in our project have been knowledgeable in their specialized fields, they have displayed a high integrity as architects, but have always been professional and easy to work with. The C.F. Møller team has fulfilled their duties in this project to our full satisfaction., says Trond Fagerli, Director of New Haraldsplass Project Program, Haraldsplass Deaconess Foundation.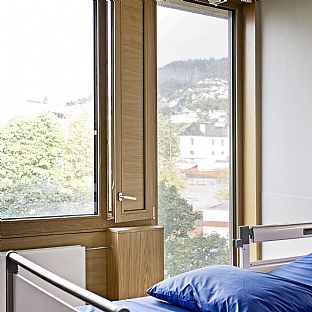 Goodbye to long corridors
In contrast to traditional hospitals, there are no long corridors. Instead, the open model forms the basis of the wards. This provides efficient logistics, flexibility and proximity between caregivers and patients.
The wards are distributed around two large covered atriums that form the frame around the common areas: A public foyer with reception and café, and a more private common room for the patients and their guests. The atriums ensure that daylight enters the building, and also contribute to better overview and easier orientation.

A footbridge between the main building and the original hospital ensure an efficient link for both able and bedridden patients, personnel and relatives.

Warm and welcoming expression
The project has focused on environment and longevity. There has also been great emphasis on choosing natural, maintenance-free materials.
The building's facades have a material quality that harmonise with the existing buildings, while also reflecting the contemporary in the new building. The oak cladding in the white fibre concrete provides a warm and welcoming expression.

- Moving into the new hospital has been a dream come true. I think it's amazingly beautiful. It's a well-planned building, with beautiful colours, furniture and light, says Nurse Torill Andersen, Haraldsplass Deaconess Hospital.
A new footbridge across Møllendalselven river enters at the axis from the hospital's new main entrance, providing an obvious and logical approach for pedestrians and cyclists from Årstadveien, where a new light rail stop will soon supplement the current bus stop.
An existing linden lane and a beautiful park in the southern part of the hospital area will be preserved as they appear now.

International healthcare experts
C.F. Møller Architects are international experts in healthcare and are currently working on an extension of the listed RWTH Aachen University Hospital and Städtisches Klinikum Braunschweig in Germany, Tolworth and Springfield Hospitals in England, Tampere Psychiatric Hospital in Finland, Danderyd Hospital in Stockholm and Aarhus University Hospital in Denmark.