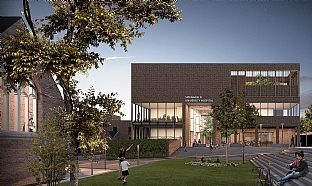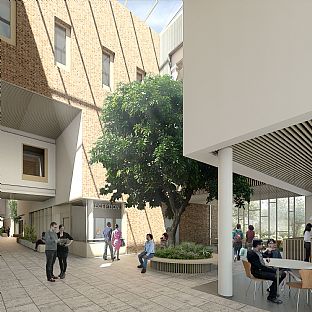 8.1.2020
Go-ahead for ground-breaking new mental health facilities at Springfield University Hospital
South West London and St George's Mental Health NHS Trust (SWLSTG) has recently [Monday 6 January 2020] announced that it has secured government approval to start work on its two new state-of-the-art facilities, designed by C.F. Møller Architects.
C.F. Møller has been employed by the South West London and St George's NHS Mental Health Trust since August 2012 after being selected as the Trust's architectural and lead consultant following a three stage, RIBA-sponsored competition.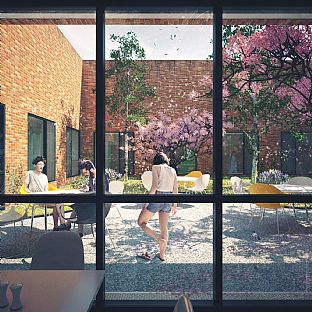 - The new mental health facilities at the Trust's Springfield University Hospital main site in Tooting Bec will consist of two distinct buildings, which together will accommodate inpatient wards, a full range of adult and children's outpatient services, Recovery College, teaching facilities and support services, explains Teva Hesse, director at C.F. Møller Architects' branch in London and design team leader.
The new buildings also incorporate retail shops and several floors of carparks that will serve both the hospital and the emerging residential plots that are being developed around the hospital.
Innovative integration
Springfield University Hospital is at the centre of a 33-hectare estate regeneration. The new facilities will be integrated into the surrounding neighbourhood in a truly innovative way which will reduce stigma and normalise the care and treatment of those who suffer from mental illness.
In the course of our work for the Trust, C.F. Møller has also designed and secured planning consent for the Springfield Park Strategy, which sets out landscape design guidelines for converting the former golf course on the Trust's grounds into a new public park.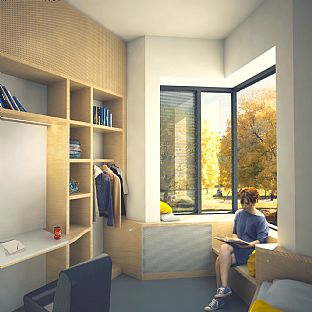 Co-production as design driver
During design development for the hospitals C.F. Møller engaged with service-users, clinicians, carers, stakeholders and commissioners in a series of over 500 workshops, meetings and open day sessions. The result of this co-production was a strong consensus that while there is great variation in types of illness and service-user pathways in mental health facilities, a growing body of evidence demonstrates the health benefits of good architecture and attractive environments in improving patient outcomes. Creation of non-institutional environments with good sightlines and acoustics, ample daylight, natural ventilation, access to gardens and outdoor spaces are key design considerations.
C.F. Møller has developed a wide range of expertise in designing healthcare environments utilising a set of principles we describe as "Healing Architecture". Our practice is currently involved in the design of several major healthcare projects in Denmark, Sweden, Finland, Germany and the United Kingdom.
- It has been a privilege to work with the Trust and the people they serve in order to realize a shared aspiration of a new generation of mental health hospitals that are therapeutic and safe environments, and which meet wide-ranging patient, staff and commissioning requirements. We look forward to working with the main contractor, Sir Robert McAlpine, to deliver this ground-breaking project, says Teva Hesse.
The full Design Team is as follows:
Architecture and Lead Consultant: C.F. Møller Architects
Project Manager: Appleyard & Trew
Landscape Architecture: C.F. Møller Architects
MEP Engineering: Arup
Structural Engineering: Walsh
Fire Engineering: Trenton Fire
Cost Consultant/QS: Gardiner & Theobald
Planning Consultant: Montagu Evans
Catering Consultant: Sterling Foodservice Consultancy
Bed numbers - Springfield total: Up to 133 Adult Beds

Design Period: 2012-2019
Construction Period: 2019-2022
Construction Budget = (confidential)
Client: South West London and St George's Mental Health NHS Trust (SWLSTG)