C.F. MØLLER BEHIND NEW HOMES CLOSE TO DR BYEN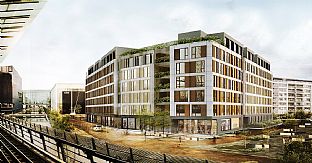 3.5.2016 | A brand-new housing project will soon be appearing at Ørestaden's historical Eksercerplads (Exercise Ground). Turnkey contractor JFP A/S, together with C.F. Møller, is behind these attractive new homes.
Calum Ørestaden K/S and KAB are building 14,500 m² new homes at Eksercerpladsen (the Exercise Ground) in Ørestaden. This site, which is adjacent to DR Byen (the headquarters of the Danish Broadcasting Corporation), DR's Concert hall and DR Byen's Metro station, will comprise 252 homes for young people and 10 private penthouse apartments.

This construction project is part of the implementation of a new local plan for the area, which allows for the construction of up to 30,000 m² of residential space and 20,000 m² of commercial space. Calum Ørestaden K/S and KAB are the clients behind the new homes at Eksercerpladsen.

Driving new development
This project will consist of 5-6 storey blocks of flats. The 262 residential units will be supplemented with shops and two cafés on the ground floor.
"The Eksercerpladsen project will be a key step in developing Ørestaden and the area around DR Byen and the Metro station," says C.F. Møller partner Mads Mandrup Hansen.

"Besides attractive new homes for young people, a key factor will be to drive new activities in the area. We hope that this location close to Emil Holms Kanal will ensure that the project can help to create a lively atmosphere in the southern part of the canal. This can have an impact on the entire area," he says.

Different designs for different types of residents
The homes for young people at Eksercerpladsen are designed in various sizes, for single living or for shared occupation. On each storey, there are shared facilities and shared premises at central locations close to the entrances to the courtyard space.

The ten penthouse flats are located on the top floor, each with access to a private rooftop terrace. The project also includes a basement car park with an area of around 2,700 m². The project commenced at the end of 2015 and is planned to be completed by the end of 2017.

JFP A/S is responsible for the construction, as a turnkey contract, with C.F. Møller and Niras as advisers. C.F. Møller has already undertaken a large number of Denmark's striking new youth housing projects: In Odense, in 2015 the architectural practice completed the popular Campus hall of residence at the University of Southern Denmark and is currently engaged in a new project at Stenfiskerkajen close to Odense Port. For Himmerland Boligforening, C.F. Møller has received a lot of praise for the youth housing units at Henius House in Aalborg. In 2015, this project was awarded the Concrete Element Prize and the Utzon Statuette, as well as Aalborg Municipality's architectural award.