C.F. MØLLER BEHIND POPULAR FLATS IN ODENSE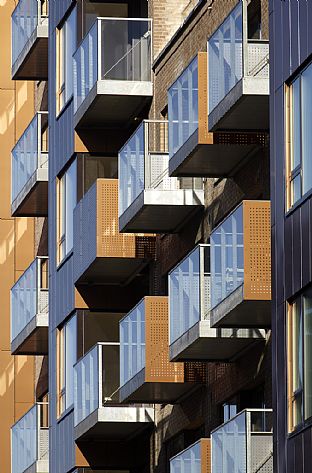 21.3.2016 | There is high demand for the new flats in the centre of Odense, Denmark's third-largest city. C.F. Møller is helping to meet this challenge.
12 storeys of owner-occupied flats at Østre Stationsvej in the centre of Odense have been completed. Meanwhile, another housing project is starting up next door.

C.F. Møller has designed the homes, built by OPUS, Odense Projektudviklingsselskab (project development company).

"Odense is currently developing rapidly, and especially on the housing front we can see high demand for good quality flats at a central location," says C.F. Møller partner, Klaus Toustrup.

Three major housing projects on the way
C.F. Møller is currently behind three exciting housing projects in the centre of Odense, which are all being constructed by OPUS on the old abattoir site close to Odense Railway Station.

The 12-storey multi-storey building is designed to give homes with a strong inflow of daylight, and to create a varied, vibrant building façade with protruding and recessed window sections, and balconies with various surfacing. Not to forget the building's landmark: A copper-coloured tower, which architecturally builds a bridge to the older buildings in the vicinity.

The multi-storey building is called the "L Building", since the complex is formed like the letter L. Now, the construction of the "V Building" on the same site is commencing. It will include 78 flats on nine floors of a V-shaped building.

Later, 200 flats will be added in the same area.