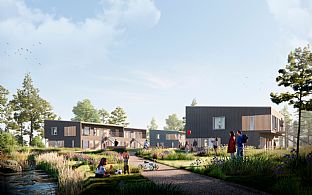 20.9.2023
C.F. Møller Architects and Danish Modular Builder Scandi Byg Introduce Cost-effective, Architecturally Designed Housing Concept with a Low Carbon Footprint
C.F. Møller Architects and Scandi Byg have joined forces to promote more affordable housing construction with a low carbon footprint for both private investors and social housing companies with their new shared housing concept, Value Living. Value Living makes it easier for developers to construct high-quality homes that also consider both the environment and the economy.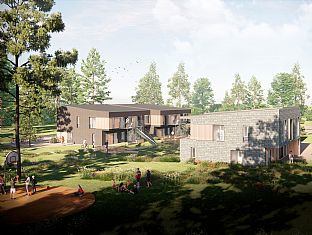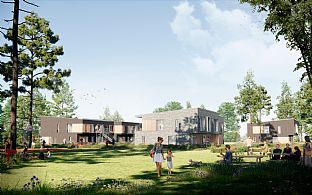 In recent years, factors such as the COVID-19 crisis, the war in Ukraine, and soaring price increases have made it increasingly challenging for both private investors and social housing associations to build new housing projects that cater to residents, architectural quality, and environmental concerns. However, C.F. Møller and Scandi Byg aim to change this trend.
The two partners have therefore developed a new housing concept called Value Living, which comprises cost-conscious homes that combine attractive architecture, affordability, and a low CO2 footprint.

"The construction of social housing has long been challenged by various factors, and in general, it has become more difficult to build within the budget framework. With our new housing concept, we make it possible to stay within a budget framework for social housing while also having a low carbon footprint. In close collaboration with C.F. Møller, we have developed a modular system consisting of base modules that can be combined in various ways, creating unique architect-designed solutions at competitive prices," says Flemming Dalgaard, Sales Director at Scandi Byg, adding,

"Furthermore, the homes are designed to be eligible for a Nordic Swan Ecolabel certification, and based on previous projects, we have calculated that our building system alone can contribute up to 48 percent in DGNB points – depending on the agreement with the developer, we can contribute even more points. This makes it easy for developers to obtain certified quality construction."

Good architecture should be accessible to all. Value Living homes are intended for multi-story buildings up to three storeys and two-storey row houses. These homes are constructed by using modular timber construction at Scandi Byg's factory in Løgstør, Denmark.

"High-quality and sustainable architecture should not be limited to those with many resources; it should be accessible to everyone. This is one of the key aspects we want to demonstrate with our new housing concept – that you can have exciting and attractive architecture at a fair price for investors, residents, and, most importantly, the environment. Therefore, we have structured the concept with a focus on people's well-being and the environment. We have also worked on creating a base module that can be adapted to individual plots and the wishes and needs of the developer while keeping costs down so that everyone can participate," explains Søren Tortzen, Department Head at C.F. Møller in Aalborg.
Meeting the Danish Expected CO2 Limit in 2029
Although Value Living homes are designed to be economically accessible to most, there is no compromise on environmental ambitions. According to Flemming Dalgaard, the homes will have a carbon footprint as low as just 5.5 kg CO2-equiv./m2/year. This is below the expected Danish limit set by building regulations in 2029.
"At Scandi Byg, we have developed a calculation model for our modules in the Danish LCAbyg 5.0 program, where we can quickly calculate life cycle assessments of our buildings and provide very detailed calculations in the early phases. With this, we can deliver our homes with a low carbon footprint as low as 5.5 kg CO2-equiv./m2/year, which is partly due to our prefabricated construction method and the fact that the homes are built in certified timber," says Flemming Dalgaard. Søren Tortzen adds,
"By collaborating, we leverage the visionary perspective of the architect and the producer's experience in building efficiently and economically. This allows us to create a concept with accessible and durable homes, where we work with a greater focus on the future environment."
For further information, please contact:
• Sales Director, Flemming Dalgaard, Scandi Byg, phone: +45 40 76 25 00 and email: fda@scandibyg.dk
• Department Head, Søren Tortzen, C.F. Møller Architects, phone: +45 22 30 05 75 and email: st@cfmoller.com
• Press Service: Anne Holland, Publicity, phone: +45 27 50 95 11 and email: holland@publicity.dk
About Scandi Byg
Scandi Byg A/S has over 45 years of experience and is Denmark's largest manufacturer of industrial construction, including residential buildings, offices, institutions, schools, and various pavilions for professional and public customers. The company has a strong focus on creating more environmentally friendly buildings and can deliver buildings with LCA calculations as low as 4.6 kg CO2-equiv./m2/year, thus meeting the voluntary sustainability class. In addition, the modular manufacturer can offer DGNB and Nordic Swan Ecolabel-certified buildings and is actively involved in circular economy initiatives.
Scandi Byg employs over 175 employees in administration, production, and project departments. The company's headquarters and production facility are located in Løgstør, approximately 40 minutes' drive from Aalborg in the Northern part of Denmark, where all modular solutions are developed and produced before being transported to the respective construction sites in Denmark or abroad."