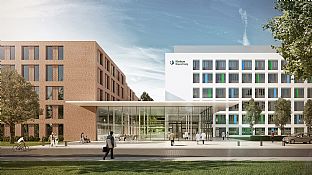 13.4.2018
C.F. Møller Architects and HENN win hospital project in Braunschweig, Germany
HENN and C.F. Møller Architects have been awarded the contract for the general planning services for the building projects of the Städtisches Klinikum Braunschweig (Braunschweig Municipal Hospital) in the course of a negotiation procedure.
The architectural programme includes a new building and further building work on an existing shell construction. In addition, the various different buildings on the site are to be amalgamated to form a cluster. In order to achieve this, an open and connecting "Magistrale" (main thoroughfare) is to be created.
This is designed to act as the main artery of the building complex, interlinking all the relevant sectors with each other; bundling the movement flows of visitors, patients and staff; and creating visual interactions between the architectural parts via adjoining atriums. The total volume includes 12.730 m² of new-built, 35.500 m² of addition and 28.330 m² to rebuild.
Second joint win in Germany
The project is the team's second large hospital assignment on the German market: In 2017, C.F. Møller Architects and HENN jointly won an international competition to extend Germany's most iconic hospital complex, the listed 1970's high-tech University Hospital RWTH Aachen.

The existing building will be expanded with a new, partly subsurface, volume, containing a central surgery area, including intensive care units and a new public entrance hall. State-of-the-art surgeries and ICUs make it the most important component of Aachen's healthcare provision.