25.4.2019
C.F. Møller Architects bring healing architecture to Finland
C.F. Møller Architects are behind the proposal for a new psychiatric clinic in Finland that is based on strong international healthcare experience and the concept of Healing Architecture also known as evidence-based architecture.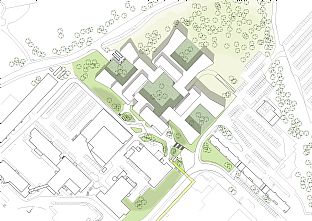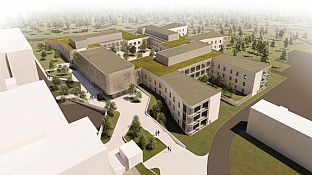 The concept of evidence-based architecture combined with C.F. Møller Architects' Scandinavian roots, meaning a strong focus on daylight and closeness to nature, is the core of our healthcare expertise. This is now brought to a new psychiatric clinic at Tampere University Hospital, a building to support patients' healing process and the staff's work environment – a beneficial environment for the good of all.
"We are very happy that Tampere University Hospital wants to bring our international healthcare experience to Finland with the ambition of designing a clinic focusing on wellbeing for both staff and patients. We will combine our experience from countries such as Germany, Denmark, Great Britain, Sweden and Norway with inspiration from Finnish heritage to design a modern and well-functioning clinic for the Tampere University Hospital, says Mårten Leringe, Partner and Architect at C.F. Møller Architects who is collaboration with Finnish Aihio Arkkitehdit Oy on this project.
The new clinic in Tampere
The psychiatric clinic comprises a self-contained extension to Tampere University Hospital, located on the outer edge of the hospital area and adjacent to a surrounding nature/outdoor area. The link with the hospital's infrastructure creates organisational and structural advantages, whilst the secluded location gives the building its own identity and privacy. The latter features, the contact with nature and the possibility of outdoor environments are a great advantage in psychiatric care.
Supporting the healing process
The facility features a flexible structural concept that supports patients' healing process and the staff's work environment. The structure creates a number of differing environments, featuring private, social and public spaces – both indoor and outdoor – to meet psychiatric patients' need, willingness and ability to be part of everyday life and adapt to life in the outside world.
Together, three U-shaped care buildings facing the surrounding natural environment and an administration and activities building arranged in a ring form an enclosed shared courtyard. Activities, visits and socialising centre on and utilise the inner courtyard's safe and secluded environment.
The care buildings are organised in such a way that departments are in pairs, with a shared core for staff and functional purposes, creating optimum flexibility and efficiency whilst providing a good overview and security within the department. The circular structure and the vertical nodes within the volume of each building ensure short distances and good communication throughout the facility.
Finnish inspiration
The building is inspired by the existing clinic in Pitkäniemi that features natural garden like environment and Tampere's industrial heritage that features bricks and wood and the surrounding nature. Both are considered supportive for the healing process. The combination of these elements creates a modern, locally rooted ambiance with a focus on both patients and staff – a healing environment for the good of all.
The clinic provides 180 beds for various psychiatrical healthcare units such as: emergency unit, psychosis unit, crisis unit, outpatient clinic, somatopsychiatric unit, neuropsychiatry unit, mood disorder unit, neuromodulation unit, substance abuse unit and psychosis + forensic psychiatry unit. The size of the project is 20.000 m² and C.F. Møller Architects design it in collaboration with Finnish Aihio Arkkitehdit Oy.
Next step in the process is to win planning approval from the Ministry of Health in Finland and the clinic is expected to be completed in 2023.
Recognised for healthcare
C.F. Møller Architects are recognised worldwide for their expertise in healthcare. C.F. Møller is behind Akershus University Hospital in Oslo, the Emergency and Infectious Diseases Unit at Skåne University Hospital in Malmö and Aarhus University Hospital, which are among the most recently completed projects. C.F. Møller Architects is currently working on health buildings in Germany, England and Denmark. The hallmark of all its projects is an evidence-based approach that is also known as Healing Architecture.
C.F. Møller Architects in Finland
C.F. Møller Architetcs are currently working with another interesting project in Finland. It is a masterplan that creates the world`s first 100% walk-friendly connection between an international airport, nature and urban city functions. The location is Aviapolis, a large urban district flanking the Helsinki International Airport (Airport City Aviapolis) and a part of the municipality and the City of Vantaa. The vision of the masterplan is to merge the existing elements of nature, city and airport into one single urban organism and to create attractive synergies between the unique mix of the user groups: visitors, residents, students, working people and artists.
Gallery