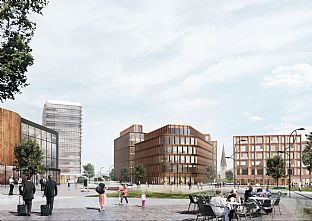 1.7.2019
C.F. Møller Architects is developing a new office area in Uppsala
In collaboration with C.F. Møller Architects, Atrium Ljungberg is developing a new office area in Gränbystaden, Uppsala, through a renewed land-allocation agreement.
Uppsala Municipality has decided to give Atrium Ljungberg a renewed land allocation in the area of Östra Sala adjacent to Gränbystaden. At the same time C.F. Møller Architects has won the parallel assignment of designing the new buildings in the area, which will include a large number of offices. The development of the area will create a new office cluster in Uppsala.
The renewed land allocation includes the northernmost block of Östra Sala backe's third phase and a small area adjacent to the Gränbystaden galleria. This gives Atrium Ljungberg the opportunity to develop Gränbystaden into a new office cluster in Uppsala, with excellent connectivity and a wide range of restaurants and shops. In addition to offices, there are also plans for service industries, healthcare facilities, educational facilities and housing.
Gränby has been identified as one of the five urban nodes in Uppsala. The plan is for this node to contain a high concentration of workplaces and be interlinked by a comprehensive public-transport system.
"Östra Sala backe is an important factor in the development of Uppsala's eastern districts, and we're looking forward to a fruitful collaboration with Atrium Ljungberg when we interlink the south and north sides of Vaksalagatan," says Erik Pelling, Chair of the Municipal Board.
In conjunction with the renewed land allocation, C.F. Møller Architects has won the parallel assignment for the buildings in the area. The assessment group included representatives from both Atrium Ljungberg and Uppsala Municipality.
"We believe that C.F. Møller's contribution will help create a valuable and interesting entrance to Uppsala. Their proposal also links Gränbystaden to Östra Sala backe in a great way," says Daniel Kvant-Suber, Atrium Ljungberg's business-development manager in Uppsala and northern Stockholm.
The buildings form a new entrance motif along one of the most important heritage thoroughfares into the city. The content of this new centre comprises a mixture of offices, culture, housing and educational facilities, forming a completely new commercial cluster in Uppsala. The structure strengthens the locality's historical thoroughfares and routes and establishes a new thoroughfare and line of vision that visually connects the block with the adjacent heritage district of Vaksala.
"We're proud to be part of the development in Uppsala, and very much look forward to the continued work with Atrium Ljungberg and Uppsala Municipality. We will use our experience from Scandinavia and Europe to create an attractive and vibrant area where offices, housing and green areas are mixed, applying a holistic design strategy that will result in a vibrant neighbourhood," says Mårten Leringe, partner, architect and CEO at C.F. Møller Architects.
About C.F. Møller Architects
C.F. Møller Architects is one of Scandinavia's leading architectural offices, with over 90 years of award-winning projects in the Nordic region and globally.

Every day we create architectural quality based on innovation, experience and Nordic values, to ensure sustainable and aesthetic solutions with lasting value for customers, users and society.

Unique design solutions
Our design solutions are created methodically and holistically, after a thorough analysis of the local context. We are involved in creating new global standards by promoting a design approach that integrates urban planning, landscape, architecture and design.
About Atrium Ljungberg
Atrium Ljungberg is one of Sweden's biggest listed property companies. We own, develop and manage properties in emerging markets in Stockholm, Gothenburg, Malmö and Uppsala. Our focus is the development of attractive urban environments for offices and trade, complemented by housing, culture, service industries and educational facilities. The total lettable area is just over a million square metres, spread over fifty or so properties valued at SEK 45bn. Our trading venue attracts nearly 60 million visitors a year, over 30,000 people work and study in our buildings and a thousand or so people are resident there.