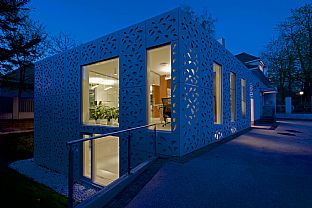 22.8.2017
C.F. Møller Architects nominated for Norwegian architectural award
C.F. Møller Architects' extension to the Norwegian-German Chamber of Commerce has been nominated for the City of Oslo's 2017 architectural award.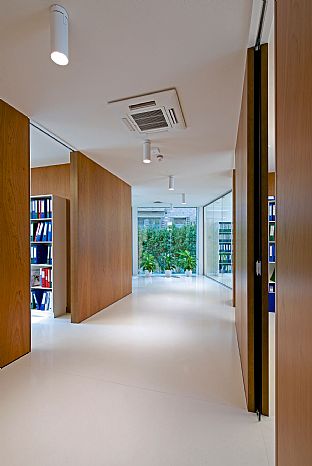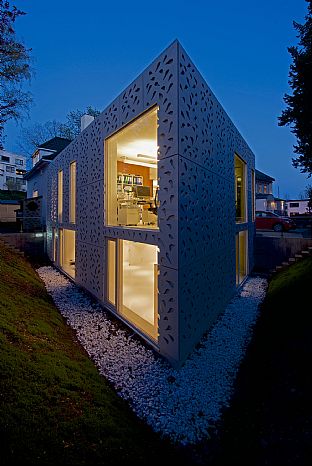 With the City of Oslo's architectural award, the municipality wishes to honour good new architecture that makes a positive contribution to the city and its development. To be eligible for the award, a building or landscape project must be outstanding and innovative, and of high quality in terms of both concept and design.
C.F. Møller Architects' extension to the Norwegian-German Chamber of Commerce in the heart Oslo has now been nominated for the award.
The extension of the Norwegian-German Chamber of Commerce in Oslo was envisioned as a stringent geometric structure that stands in stark contrast to the Jugendstil of the original buildings. The building is designed as a sharply-cut prism with large surfaces,

The property was once the embassy of the DDR, and the original buildings comprise two white, plastered brick structures in the Jugendstil from 1915 – the Embassy building and the Porter's Lodge (protected by Norwegian law as a cultural heritage monument). The Chamber of Commerce comprises office-based operations. The embassy building is used as offices.
Good lighting
The extension is limited to one ground floor and a lower floor where the ground around the building has been excavated on two sides to let light into the offices. The front door is sunken so as to be flush with the new façade screen of perforated fibre-reinforced concrete, decorated with natural motifs in the Jugendstil. Since it proved impossible to make room for a lift without stealing some of the limited office space, a platform staircase has been incorporated into the extension instead – between the entrance level and the ground floor level, which is flush with the floor in the Porter's Lodge.
A total of 21 projects were nominated, and anyone visiting Oslo can view them all at the Town Hall Square, as from 27 September.
The winner will be announced at a ceremony at Oslo Town Hall Square on 12 October 2017, which will also be open to the general public. 
Gallery