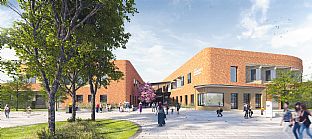 27.2.2018
C.F. Møller Architects receive planning approval for a new mental health hospital in London
A new mental health hospital designed by C.F. Møller Architects, with a strong focus on healing architecture, is now one step closer to being realised following a unanimous planning approval from the Royal Borough of Kingston Upon Thames.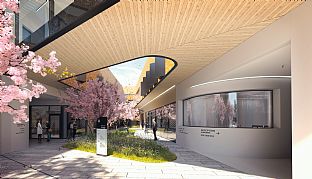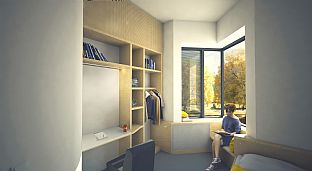 C.F. Møller's design for the Tolworth mental health hospital in Kingston was carefully developed following years of evidence-based research and consultation with users, carers, clinicians and other stakeholders. Steered by the South West London and St. George's Mental Health NHS Trust's requirements to provide state-of-the-art facilities, the designs seek to deliver therapeutic and safe environments that meet current and future user needs. The hospital wards are arranged around a variety of garden courtyard spaces, providing direct access to nature and open air within a secure building envelope. Wherever possible the architectural design seeks to create non-institutional environments. Good sightlines, attention to reducing noise, ample daylight, natural ventilation and access to garden spaces have been the key design goals.
David Bradley, Chief Executive of the South West London and St. George's Mental Health NHS Trust, said:
"Our new Tolworth Hospital will be unique as clinicians and patients have been at the forefront of developing the design approach. The new hospital promises to be amongst the best possible facilities in the country and will ensure we can deliver the highest level of care to the thousands of patients we care for now and for generations to come".
Teva Hesse, C.F. Møller's Director for the project, added, "Our practice has been working with the Trust since 2012 to develop mental health facilities that focus on therapeutic, normalised environments that assist service users in their recovery. The new Tolworth buildings and landscaping are aimed at reducing the stigma of mental illness by making a positive contribution to the surrounding community. Obtaining full planning permission by a unanimous vote is a milestone that brings the project one step closer to being realised."
The new hospital will be delivered in phases and when fully built will include older adult, adult, adolescent and specialist wards such as Working Age Adult, Older Persons Acute, OCD/BDD wards along with Child and Adolescent Mental Health (CAMHS) Services. In addition to new inpatient wards, the site includes outpatient services, teaching/seminar facilities along with a variety of support services.
Cllr Cathy Roberts, Kingston Council's portfolio holder for Adult Social Care and Health, stated:
"We are pleased to have given the green light to such an important development in the Borough and welcome the plans set out for the Tolworth Hospital site. The new hospital will provide the much needed mental health services for Kingston and our neighbouring boroughs and promises to offer some of the best treatment and facilities in the country".
Healing architecture
While there is great variation in types of illness and service user pathways in mental health facilities, a growing body of evidence demonstrates the health benefits of design in improving patient recovery and outcomes. C.F. Møller Architects have looked to employ evidence-based design and innovation in promoting optimal therapeutic environments for patients, carers and the NHS staff who care for them.
Further afield
Across Europe, C.F. Møller are leading the way on several major healthcare developments. The practice recently won the extension to the iconic and listed University Hospital in Aachen, Germany, in an international design competition in 2017 with the German practice HENN. Together with landmark facilities, such as the Aarhus University Hospital in Denmark, the largest hospital project in Danish history and winner of the 'Best International Healthcare' Award in 2017, C.F. Møller Architects have taken position as global leaders in delivering state-of-the-art healthcare design.

Project Team
Client: South West London and St. George's Mental Health NHS Trust
Architect: C.F. Møller Architects
Landscape Architect: C.F. Møller Landscape
Project Manager: Appleyard & Trew
SMEP and Civil Engineering: Arup
Fire Safety Engineer: Trenton Fire
QS: Gardiner & Theobald
Transport Consultant: Motion
Communications: Cascade Communications
Planning Advisor: Montague Evans
Gallery