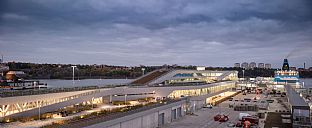 29.3.2017
C.F. Møller Architects receives international award
C.F. Møller Architect's new ferry terminal, Värtaterminalen in Stockholm is awarded a Green GOOD DESIGN Award in the category Green Architecture.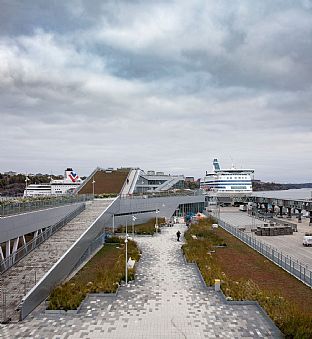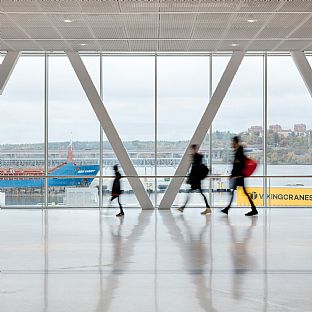 Green GOOD DESIGN identifies and emphasizes the world's most important examples of sustainable design to develop a public awareness to the general public about which global companies are doing the best job ecological and sustainable design for our world environments.
- We are very pleased to receive this award and get recognized for our constant strive to create innovative architectural solutions with a great focus on environmental and social sustainability, says Mads Mandrup, Partner and Architect at C.F. Møller Architects.
Sustainable ferry terminal
Värtaterminalen stands out as landmark for social and environmental sustainability in Stockholm. It functions both as a new urban park for people to engage socially and bring life to a complete new urban area in Stockholm and infrastructure securing a safe and destination for more than 4 million passengers a year.

The passenger part of the terminal is raised to be at level with the urban zone, so it is easy for both pedestrians and traffic to access. At the same time the roof of the terminal building is designed as a public park. Solar energy and geothermal heating/cooling are provided via the building's integrated systems, making it possible for the terminal to be self-sufficient in energy. Värtaterminalen will receive the environmental certification level Gold.

About the Green GOOD DESIGN Award
The original GOOD DESIGN founded in Chicago in 1950 program remains the oldest and most important Awards Program worldwide.
 
For 2017 Green GOOD DESIGN Award received hundreds of submissions from around the world. Members of The European Center's International Advisory Committee—worldwide leaders in the design industry— served as the jury and selected over 100 new products, programs, people, environmental planning, and architecture as outstanding examples of Green Design from 20 nations.
 
All Awards are posted at the European Centre's website at www.europeanarch.eu.
Gallery