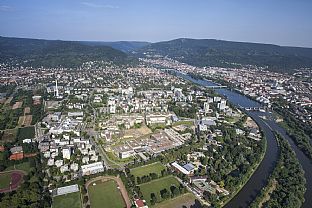 3.7.2018
C.F. Møller Architects to design for prominent German university
C.F. Møller Architects has been selected for an ambitious campus masterplan outlining the future development of the University and University Hospital of Heidelberg, one of Germany's and the world's most prestigious universities.
Heidelberg University is Germany's oldest university and one of the world's oldest surviving universities and in the same academic league as University of Cambridge and University of Oxford and Harvard University. The campus area Im Neuenheimer Feld is located alongside the river Neckar, in close proximity to the historic centre of Heidelberg, and accommodates the natural sciences and medicine faculties. The masterplan will cover an area of about 120 ha, and set the framework for the main campus' development over the next 30 years and beyond envisioning an extension potential of about 800,000 square metres of construction.

C.F. Møller Architects will be working together with HENN and Arup in a highly participatory, workshop-based process in close collaboration with the university, city and community of Heidelberg. The aim is to combine development potentials with upgrades of public spaces and ecological values, new urban mobility concepts and social infrastructure to create a world-class research, education and treatment environment. The work will begin in august 2018.
C.F. Møller Architects has been working with a long list of campus designs for key Nordic institutions like the Universities of Copenhagen, Aarhus, Stockholm, Oslo, Odense, Aalborg and the Copenhagen Business School, VIA University College and many more. In the German market, C.F. Møller is currently working with two major healthcare clusters in Aachen and Braunschweig, and was recently named the winner of an international competition for Hamburg-Altona's new long-distance train station.