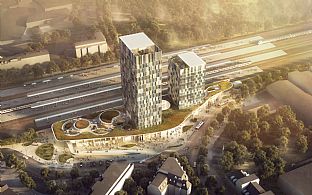 28.6.2018
C.F. Møller Architects win new project in Germany
C.F. Møller Architects have won an international competition for a new train station development in Altona, Hamburg. The proposal looks to act as a visionary landmark and an urban catalyst, both for the northern district of Altona's development and the wider city of Hamburg.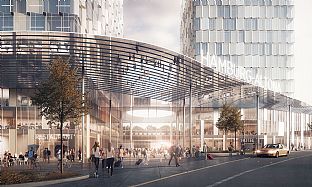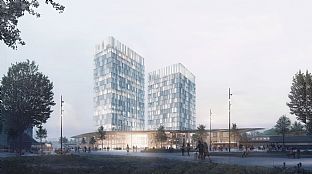 By interlinking nature and city life, the new station plays a role in contributing to the city's vision of consolidating and giving significance to its green spaces
Conceptually, the project is a compilation of three primary elements: a base, a roofscape and two towers. The base gathers the project's public and urban attributes, while the two towers accommodate a hotel and office spaces with views of Hamburg. An undulating roof landscape binds these two elements together and looks to offer a softer and inviting quality to the proposal.
The base level hosts the public realm and the new Altona North train station, creating contact with adjacent streets and urban spaces. It looks to provide the backdrop to a wide range of public functions that create life and activity within a station; such as cafes, restaurants, shops, fitness facilities, bicycle parking, waiting areas and entrance lobbies.
The connective roof not only gathers together the different elements of the project but also provides a canopy for many outdoor public functions at ground level. It allows the covered area of the forecourt to be used 365 days a year for cafés, farmers' markets and cultural events. The roof itself hosts a green park above, with covered outdoor spaces for the hotel and offices. The roof landscape embodies a collective and progressive vision of reinforcing Hamburg's green credentials.
"We are really proud that our design has been selected. The project will be a beacon in the future development of the Diebsteich quarter. Our vision is to connect the station, city quarter, hotel and office building with a distinctive green profile, which reflects the green focus of the city of Hamburg. We are looking forward to be working with ProHa Altona, "says Mads Mandrup Hansen, Partner and Architect at C.F. Møller Architects.
Invited International Competition
A total of thirteen architecture firms participated in the international competition, three of which continued to the final phase. The proposals were further considered following input from the client, which is the City of Hamburg in cooperation with the development company ProHa Altona and Deutsche Bahn Station & Service. Aside from C.F. Møller, local architects GMP from Hamburg and Baumschlager Eberle from Austria progressed to the last phase and C.F. Møller were finally appointed as the competition winner.
The invited competition team list:
C.F. Møller Architects (DK) Winner
GMP (DE) Finalist
Baumschlager Eberle (AT) Finalist
Auer Weber Assoziierte GmbH, Stuttgart (DE)
Carmody Groarke, London (UK) 
Carsten Roth Architekt, Hamburg (DE)
Hadi Teherani Architects GmbH, Hamburg (DE)
HASCHER JEHLE Architektur, Berlin (DE)
LH Architekten I Landwehr Henke + Partner mbB, Hamburg (DE)
MVRDV, Rotterdam (NL) 
Schmidt/hammer/lassen architects, Aarhus (DK) 
schneider+schumacher Planungsgesellschaft mbH, Frankfurt a.M. (DE)
UNStudio, Amsterdam (NL)


Experience in Combining Infrastructure and Urban Development
The win in Hamburg is the latest assignment for C.F. Møller to further its experience in creating a significant transit and urban hub within an emerging city neighbourhood. In 2017, Värtaterminalen, a ferry terminal in Stockholm, was completed and the office has recently won competitions for a new central station in Lund, Sweden, and a new central station in Oslo, named 'Fjordporten – Nordic Light'. An alternative approach is seen in Aarhus, Denmark, where C.F. Møller are currently working on covering an existing railway site to create a new, car-free urban quarter in the centre of Aarhus.