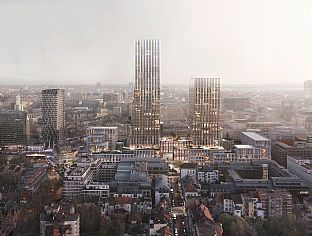 12.7.2019
C.F. Møller Architects win third prize in invited competition for the EU Commission's new premises
30 international teams were invited to design the new premises for the EU Commission in Brussels, and it has been announced that C.F. Møller Architects in collaboration with B2Ai won third prize.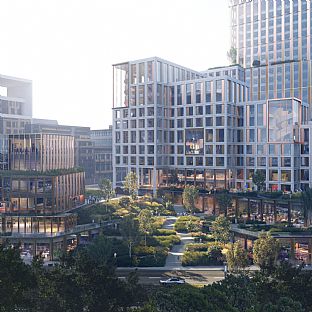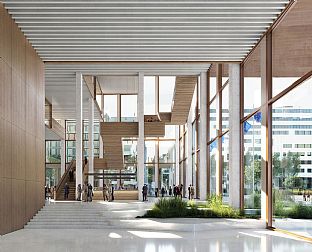 Architectural firms with an international scope of work were invited to participate in a two phased competition launched by the EU Commission. The competition invited teams composed of architects, landscape architects, building services engineers and structural engineers from around the world to submit forward-thinking, innovative, sustainable and cost-efficient proposals for the project.
The project team consisted of URO II & ARCHI+I (B2Ai) from Belgium (Team Leader), C.F. Møller Architects, DELVA Landscape Architects from the Netherlands and VK Engineering from Belgium.
Inclusivity and a sustainable future
The team's proposal is designed as a flagship for the EU and embodies openness, inclusivity and accessibility, with the aim of setting new standards for a sustainable future.
The new premises include offices for more than 5,250 people, 2 childcare centres, a visitor centre that can welcome 345,000 people a year and 3,000 sqm. of restaurants, shops and public spaces. The whole complex ensures the highest possible level of security. The size of the premises is 195.000m2.
The new premises are designed with an integrated sustainability and energy profile of BREEAM standard, with a strong focus on reducing the building's CO2 footprint from the choice of materials used.
The complex looks to address both the city context and a human scale, through the combination of a tower and podium landscape. The two towers rise elegantly from two podiums as new visual markers in the city skyline. They are carefully shaped to create optimal sun and wind conditions for pedestrians at street level, in the plazas and for adjacent neighbours. The two towers are connected by a bridge link, creating one unified floor level, with social uses, meeting facilities and an auditorium.
The lower level arrival plaza is a green and accessible terraced landscape, connecting the residents of Brussels to and from the metro. The two podiums are served by independent entrances, shared with day nurseries, retail areas, a food court and visitor centre, creating an attractive and active ground floor public realm. A mixture of plazas, parks and planted roofs integrate a rich green landscape into the urban surface of the city, along with several rooftop gardens for workers in the building.
Invited international architects
Amongst invited teams were Atelier Jean Nouvel, Zaha Hadid Architects, UNStudio, Snøhetta, MVRDV, Gigon/Guyer, Christian Kerez, 3XN, Baumslager Eberle Architekten and Max Dudler.
The 1st prize winner
Architect + Team leader AVA ARQUITECTURA TECNICA Y GESTION, S.L. (official name)/ RAFAEL DE LA-HOZ ARQUITECTOS, Spain. Architects: Perkins&Will UK Limited, United Kingdom. Landscape architects: LATZ+PARTNER Landscape Architecture Urban Planning, Germany. Building service engineering: TECNICA Y PROYECTOS S.A., Spain. Structural engineering: MC2 ESTUDIO DE INGENIERIA S.L.U. Spain.
The 2nd prize winner
Architect + Team leader 2PORTZAMPARC, France. Landscape architects: FLORENCE MERCIER paysagiste, France. Building service engineering: ARTELIA Bâtiment & Industrie, France. Structural engineering: ARTELIA Bâtiment & Industrie, France.
The 3rd prize winner
Architect + Team leader BURO II & ARCHI+I (official name)/ B2Ai (business name), Belgium: Architects: C.F. Møller Architects, Denmark. Landscape architects: DELVA Landscape Architects, The Netherlands: Building service engineering: VK Engineering, Belgium. Structural engineering: VK ENGINEERING, Belgium. Other members: Transsolar Energietechnik GmbH, Germany.
Gallery