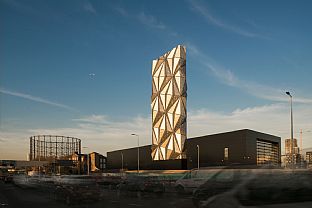 6.7.2017
C.F. Møller Architects wins GAGA Award with London project
Greenwich Peninsula Low Energy Centre, London, by C.F. Møller Architects in collaboration with British artist Conrad Shawcross wins this year's award in the Architecture category.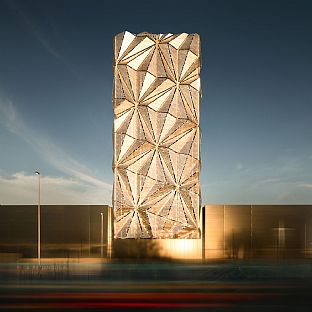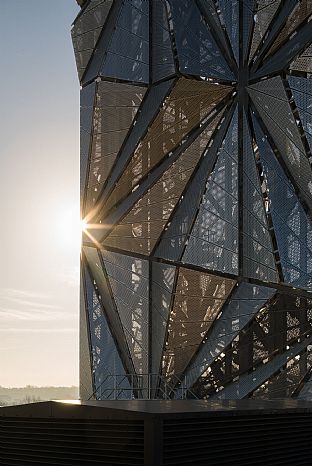 The Galvanizers Association Galvanizing Awards (GAGAs) is a free, annual competition which has been recognising the use of galvanizing since 1994. 40 entries were shortlisted this year across five categories and the Greenwich Peninsula Low Carbon Energy Centre wins in the Architecture category.
'In the Architecture category it was the clean lines, green programme and more coherent overall composition of Greenwich Peninsula which ultimately found itself at the top, says Isabella Priest, RIBA Journal and part of the judging panel along with chairman Matthew Wells, Teckniker, Dave McKenna, last years Architecture category winner from Sutherland Hussey Harris, and chairman Iqbal Johal Galvanizers Organisation, with the winners announced at the ceremony on 29th June at the Royal Aeronautical Society, London..

Landmark for sustainable energy
The Greenwich Peninsula Low Carbon Energy Centre is an important new landmark for sustainable and affordable energy for one of London's major urban development areas, Greenwich Peninsula, including 15,700 new homes and over 300,000m² of office space.

Situated in a prominent location at the entrance to the peninsula, adjacent to the Blackwall Tunnel Approach, the building houses technically advanced boilers and combined heat & power plant that distribute heat energy via a District Heating Network (DHN) from the Energy Centre to each plot across the development.
Demystifieng
Guided by a desire to demystify the process of energy generation, the machine room and flexible ancillary office accommodation are supplemented with a visitor centre that will offer an interactive educational experience for pre-arranged groups of visitors. The building footprint further allows for flexibility in adopting new energy technology over the building's substantial lifetime.
Integrated artwork
The 49 metre tall flue enclosure is turned into a place-making statement for the gateway to the Peninsula. Designed by British artist Conrad Shawcross, and named 'The Optic Cloak' the cladding for the structure is formed of hundreds of triangular panels – each the size of a London bus - that fold and flow across the surface of the tower forming complex geometric patterns that visually break up the flat planes to create an uneven, sculpted surface that plays with the vanishing points and perspective. At night, an integrated lighting design produces a shifting series of compositions lit from within the structure.
More on project information on the Energy Centre
More on GAGA Awards
More on Artist Conrad Shawcross