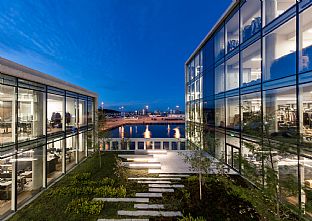 18.5.2017
C.F. Møller Architects wins a new international award
Bestseller's office complex in Aarhus, Denmark, designed by C.F. Møller Architects, wins the European Architecture Award in the Office Buildings category.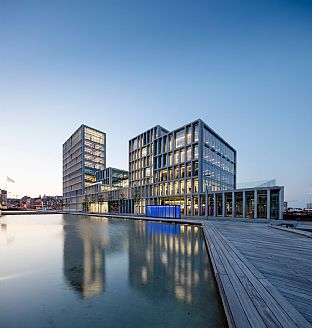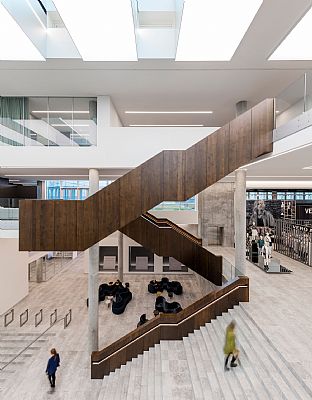 A total of 327 projects from 32 countries competed to be the very first recipients of European Architecture Awards. C.F. Møller was the only Nordic firm of architects to make the grade and be nominated for the final, held on 18 May in Brussels, when the final winner was revealed. C.F. Møller thereby earned a place in the history of the awards as the first recipient in the Office Buildings category.
"We're pleased and proud to receive this award, since Bestseller epitomises what we stand for, which is high architectural quality, durability, innovation and sustainability, based on respect for the location and the people who are to visit and use the building," says Julian Weyer, architect and partner at C.F. Møller Architects, who received the award during a ceremony in Brussels.
Bestseller – a town within the city
The Bestseller complex consists of a number of building carcasses, at different levels, which are interconnected by various different outdoor areas, including atria, terraces and roof-top gardens.
The mix of offices with outdoor areas creates the sense of "a town within the city". The complex, which has canals and water on all four sides, marks the entrance to the new urban district on the Aarhus waterfront.
The building has around 800 workspaces, besides showrooms, an auditorium, photography and film studios, a large canteen, and shared facilities for fashion shows and conferences. Link to Bestseller.
Bestseller has previously received the City of Aarhus Architectural Award 2015, the WAN Commercial Award 2015 and Naturstenprisen (the natural stone award) 2016.
Fine second place
C.F. Møller was also nominated in the Urban Development category, winning a fine second place with Copenhagen International School. This school is centrally located in the new Nordhavn quarter in Copenhagen, contributing to ensuring an attractive and vibrant new part of the city. The school has drawn particular attention in Denmark and internationally for its façade, which consists of 12,000 solar panels. Right now, this is highlighted in a full, eight-page description in the current edition of the renowned international journal, The Plan.
Bestseller project description
Copenhagen International School project descriptio
More information on European Architecture Awards

Gallery