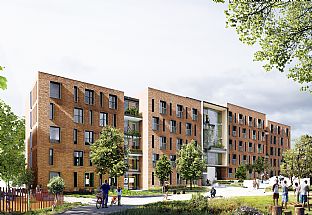 7.9.2017
C.F. Møller Architects wins competition for a new hall of residence
Three housing associations took part in Aarhus Municipality's mini-competition for a new youth housing project on Randersvej. The winner is Brabrand Housing Association, with a project designed by C.F. Møller Architects.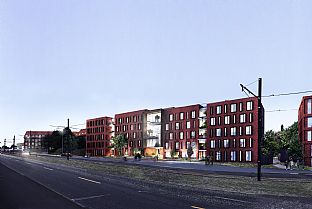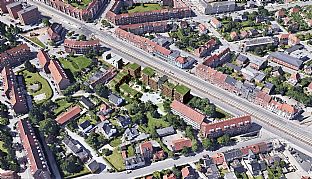 "We've just welcomed 12,000 new students to Aarhus, and there's a lot of pressure on the city's housing for young people. So I'm really pleased that with the hall of residence on Randersvej we're now launching yet another youth housing project, to ensure that even more young people have access to inexpensive housing of high quality," says Kristian Würtz, Council Member, Technical and Environmental areas.
As part of the project, several green areas will be established, including a large courtyard space and a number of balconies for green cultivation, facing towards Randersvej. The hall of residence is thus also contributing to making Randersvej greener, which is one of Aarhus Municipality's ambitions.
In the competition, there was focus on ensuring a low rent level without compromising on a high residential quality and quality of life, and the winning project is praised for its fine adjustment to the quarter's scale and architecture.
"We're happy to be able to contribute to achieving the vision of a city of diversity with new public housing, and to improving the housing offered to the city's young people. Together with C.F. Møller, we look forward to creating a modern and exciting hall of residence with a very attractive location close to the city's two large educational institutions," says Keld Laursen, director of Brabrand Housing Association.
The project is the first in a series of new complexes that is currently being created, as the area along Randersvej is built up. The youth housing units' immediate neighbour will be a private residential project, and the coming local plan will be drawn up in collaboration with the private urban developer.
Prize-winning youth residential units
C.F. Møller Architects has previously designed Campus Kollegiet in Odense for the University of Southern Denmark, which has just won the Civic Trust Award 2017 and is nominated for a Brick Award and a Fritz-Höger Award, for which the winners will be found later in the year. In addition, the hall of residence e.g. received Odense Municipality's architectural award in 2016. In Aalborg, Denmark, the youth residential complex Henius House, completed in 2013, received Aalborg Municipality's 2014 architectural award. In 2015, Henius House was awarded the concrete industry's Oscar, in the form of Betonelementprisen (the concrete element prize); while on the same occasion the Utzon Statuette was presented to partner and architect Klaus Toustrup for an "exceptional talent for building in concrete".