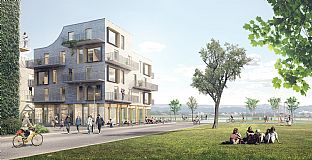 22.9.2017
C.F. Møller Architects wins competition for new timber-built housing in Lund
C.F. Møller Architects, together with the client, Slättö Project Development, has won the competition for a new residential quarter close to the Råby Lake in Lund, Sweden. As the quarter's name, "Naiad", indicates, the proposal takes advantage of the proximity of the lake and the countryside.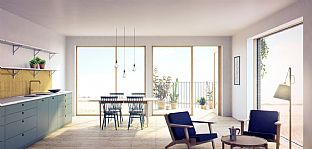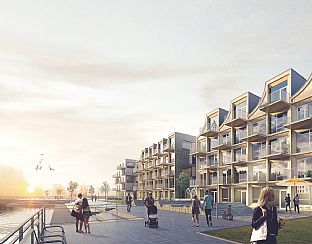 Naiad 1 is an innovative residential quarter in the Råbylund area of the city where this new architecture contributes to creating an identifying silhouette for the site. The open structure of the quarter amplifies the links to the cultural landscape and the site's urban qualities.

An excerpt from the jury's evaluation: "The project captures the essence of the site in a unique and outstanding way and is characterised by variation, with a harmonious and well-balanced approach. The energy used, materials selected and efforts to promote a sustainable lifestyle are of a high standard. The project tells the story of the site and is 'square' in the sense that it looks just as good from every direction. The quality is high in every aspect required." 

The biotope roof and ample green areas make it possible to promote biological diversity by providing a habitat for insects, pollination and birds, while also naturally delaying storm water. The planned green spaces include site-specific vegetation that can also stimulate social interaction. The residential area will have three greenhouses where residents can grow produce and interact socially. The new quarter applies a comprehensive concept for integrated vegetation and value-adding social functions whereby natural ecosystems interact with a sustainable lifestyle.

All of the houses will have elevated ground floors with business premises, combined business and residential premises, entrances to homes, and unique residential qualities. In the southwestern corner of the quarter, a restaurant is planned and will be a natural meeting place for residents and visitors, directly connected to the plaza and park.

The buildings are proposed to have brick facades and structures of solid wood. Wood is an excellent material for innovative residential construction as it is a sustainable, eco-friendly material. By applying modern industrial timber techniques, the Naiad will stand out as a unique quarter of Lund, built entirely from solid timber.

"We wish to create homes and environments that encourage an individual footprint, while also minimising the ecological burden. The architecture must be inclusive and provide for diversity, with space for people and families at different stages of their lives, and with various different backgrounds and lifestyles. Using sound materials and a clear architectural expression, our aim is to design buildings which people of every generation will enjoy using," says Ola Jonsson architect and associated partner at C.F. Møller.
Gallery