C.F. Møller behind Italian Healthcare Campus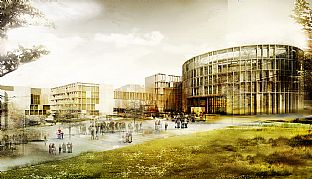 23.2.2016 | C.F. Møller has designed a new hospital expansion and restructuring in the Italian city of Sassari, uniting two existing hospitals into a new healthcare campus and adding modern facilities based on the principles of healing architecture.
Since 2014, C.F. Møller has designed the restructuring and merger of two hospitals in Sardinia, resulting in the design of a unique healthcare campus in Sassari, the second-largest city of Sardinia in terms of population with over 130,000 inhabitants, or about 275,000 including the metropolitan area.

The University Hospital of Sassari and the Sassari Regional Hospital today operate as independent entities, and are physically separated by a public road and light rail. The aim is to tie together the two hospitals, logistically, functionally and visually, creating one contiguous campus with a focus on increased efficiency and knowledge sharing.

The project includes the construction of 30,000 m² of new treatment areas, including Sardinia's first mother & child maternity clinic, to replace a number of older buildings which do not meet the requirements for seismic protection. The intervention is designed so as not to interfere with the healthcare activity that takes place in the existing structures.

The buildings will be connected physically by tunnels and a pedestrian bridge above the main road, which remains unobstructed. A new Main Entrance building for the entire hospital will be situated in the centre of the campus, on the west side of the main road. It contains shops, offices or Outpatient clinics. Outside the new main entrance building there is a "view plaza", with recreational facilities and impressive views over the historic monastery of San Pietro.

The new circular Mother & Child Building is on the east side of the main road. A 3-storey lobby connects the different functions inside, and links to the existing university hospital as well as the new entrance building. The two lower levels form a "base" which contains emergency rooms, diagnostics, outpatient clinics and birthing rooms.

C.F. Møller designed the new campus in collaboration with engineers Politecnica and consultants Metassociati and SPA. Following a design & build tender, the execution of the project has now been awarded to the contractor Salc-Gemmo in collaboration with consultants Mythos.

C.F. Møller was selected for the job based on extensive experience and references within modern healthcare buildings and healing architecture in Denmark, Norway, Sweden and the UK. C.F. Møller is currently the lead architect at the New University Hospital in Skejby (Aarhus), The University Hospital in Køge, Hvidovre Hospital and Vendsyssel Hospital (Hjørring). In 2015, C.F. Møller's Akershus University Hospital project in Norway was honoured as the world's best health project over 40,000 m².