C.F. Møller competing for Amsterdam University project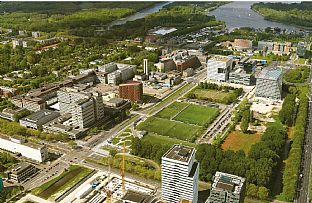 30.6.2016 | Together with the Dutch firm, Barcode Architects, C.F. Møller is to make a bid for the design of a new Life Science building as part of Amsterdam University.
Amsterdam University needs new premises for the public health and Life Science areas. The University has prequalified C.F. Møller, together with Rotterdam-based Barcode Architects, to submit proposals for the new construction project.

Overall, the Dutch university requires at least 24.000 m² and at most 35.000 m²of new facilities, comprising offices, teaching rooms, auditoriums, laboratories, public areas, and so on.

The new building will also be strongly integrated into the existing university campus and be closely connected with the surrounding public squares. There will also be basement facilities.
C.F. Møller is currently engaged in the construction projects for two of Europe's most modern research buildings: the Mærsk Building in Copenhagen, which is an extension to the Panum Institute, and Biomedicum in Stockholm, attached to Karolinska Instituttet.