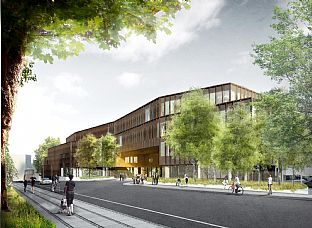 10.2.2017
C.F. Møller designs Carlsberg Group's New Central Office
A new main office building for the Carlsberg Group is on its way in Copenhagen, Denmark. C.F. Møllers has designed the complex. Construction begins late February 2017.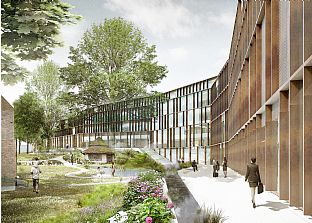 The new office will be situated in Carl's historical garden at the top of Valby Bakke next to Valby Langgade and Søndermarken. Valby Bakke is the place where it all started for Carlsberg in 1847, when the founder of Carlsberg, J.C. Jacobsen, moved outside the city to get access to good clean water to brew the best beer possible.

Once Carlsberg's New Central Office is completed, Carl's Garden will for the first time become open to the public.

The four-story office building will have a total area of 15,500 m² plus 7,700 m² of underground parking.

C.F. Møller is the project's consulting architect. The client of the project is Carlsberg A/S. EKJ Rådgivende Ingeniører A/S is client consultant, Alectia A/S is consulting engineer. Rambøll is in charge of the construction management as well as health and safety coordination. Aarsleff has been appointed as main contractor.

Construction of Carlsberg New Central Office begins late February 2017 and is scheduled for completion by the end of 2019.