C.F. Møller in competition for Amager Fælled Kvarter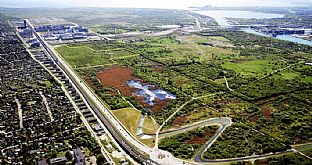 8.3.2016 | By & Havn has nominated C.F. Møller Landscape to give a proposal for how a master plan for the Amager Fælled of the future should be developed.
Ørestad's overall urban structure is to be completed via a new project competition to develop Amager Fælled Kvarter as the last urban area. C.F. Møller and C.F. Møller Landscape as turnkey adviser will be handling this assignment, with NIRAS and Urban Agency as sub-adviser, and Jens Kvorning as consultant.

The master plan will mainly be to develop the area as a residential quarter, with a competition area covering 40 hectares, of which 18 hectares for urban development. The surrounding green zone is already planned to be used for a mixture of commons and green-belt areas, such as recreational areas and gardens.

Amager Fælled Kvarter has a solitary location in the striking countryside of Amager Fælled (Amager Common), north of Vejlands Allé, immediately adjacent to the Grønjords Lake's unique scenery. The closest built-up areas are Amager Fælled Øst, Ørestad City and Bella Kvarter.

"Our ambition is to make the new Amager Fælled Kvarter the most vibrant, flourishing and sustainable quarter in Ørestad. This area represents a unique opportunity to create a master plan for a contemporary, bustling and adaptable urban quarter, with special focus on the recreational potential of the countryside," says Lasse Palm, head of department of C.F. Møller Landscape, about the coming master plan.

As turnkey suppler, C.F. Møller Landscape will be competing with four other teams, led by Henning Larsen, Arkitema, Vandkunsten and Polyform. The competition for the new master plan for Amager Fælled Kvarter will be launched in mid-April.