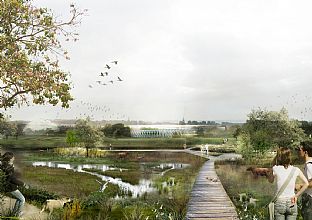 24.1.2017
C.F. Møller in new climate adaption project in Randers
C.F. Møller is cooperating with Randers Municipality, Randers Wastewater and Orbicon on a new climate adaption project to give better access to urban nature and new recreational areas.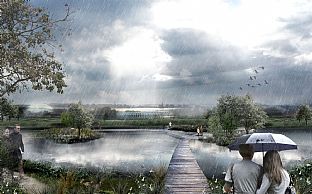 Rising groundwater levels, more rain and a higher risk of storms and flooding. These consequences of climate change are becoming more and more apparent - also in Randers, parts of which are situated in low-lying areas towards the Gudenåen river and the fjord. Randers Municipality and Randers Wastewater have therefore joined forces on an ambitious new project that is tackling climate adaption of the town. The project is called Storkeengen (Stork Meadow) and has just received almost DKK 3 million from the Danish Ministry of Environment and Food's pool for climate protection measures in municipalities.

"With Storkeengen, we're creating a project that includes the necessary climate adaption measures for the Vorup quarter. The people of Randers will also gain access to nature in entirely new ways, so this is really a project in which we're doing something that will benefit the whole town," says Frank Nørgaard, chairman of the Environmental and Technical Committee in Randers Municipality.

Cloudburst routes, a new dyke and user involvement
In the new project, rainwater from roofs, car parks and roads in Vorup will be led down to Storkeengen, where the water will be purified in wet areas before being led out to Gudenåen. Normal volumes of rainwater are carried in underground pipes, but in extremely rainy conditions, the water can be led down towards Storkeengen along special cloudburst routes.

"Climate adaption is high on Randers Wastewater's agenda, and we devote a lot of resources to separate drainage. We're therefore also happy to be involved in a project that contributes so positively to the town's development, and which can achieve some of the climate adaption aims that are so vital in our day-to-day work," says Peter Christensen, director of Randers Wastewater.

According to the project plan, a new dyke will be built between Storkeengen and Gudenåen. The dyke will ensure proper purification of rainwater and protect the low-lying parts of Vorup in the event of flooding. Before the excavators can start up in 2018, however, a lengthy process will take place in which the area's residents and other stakeholders will be invited to contribute their input.

"Project Storkeengen is based to a high degree on the wish to create climate adaption solutions that can also function as new recreational areas. We therefore also need some good ideas for how we can best approach this task, so that Storkeengen ends up as an asset for the town in every way," says Frank Nørgaard.

Facts about Storkeengen
Project Storkeengen is the first climate and nature project in Randers Municipality's major urban development project, Byen til Vandet (Bringing the Town to the Water).
C.F. Møller is involved i the project's landscape architectural aspects, while the Orbicon engineering firm is engaged in developing the technical engineering elements.
The project is dimensioned to handle rainwater volumes at least equivalent to a 100-year event in 2050.
Achieving Storkeengen requires a number of permits and dispensations. The town council must also adopt a supplement to the wastewater plan.
The time schedule for the project has not yet been adopted, but Randers Municipality and Randers Wastewater are working on commencement of the construction work during 2018.
More information is available from Randers Wastewater
Press release from Randers Municipality
Uddybende omtale hos Randers Spildevand
Pressemeddelelse fra Randers Kommune