C.F. Møller looks to media sector for new Head of Communications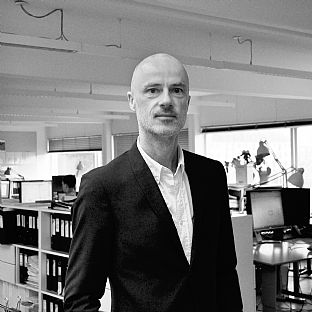 15.8.2016 | Architecture firm C.F. Møller has appointed Peter Sikker Rasmussen as its Head of Communications. He brings to C.F. Møller fifteen years of experience in branding and strategic communication, having worked in these fields at DR and TV 2, among others.
With 350 employees and a 92-year history under its belt, C.F. Møller is today one of Scandinavia's largest and most experienced architecture firms. As part of the company's continued development, Peter Sikker Rasmussen has now been appointed as Head of Communications. He joins C.F. Møller from TV 2, where one of his responsibilities was communications for TV 2 SPORT, TV 2 BUSINESS and TV 2 PLAY. He also managed the marketing for a number of DR's radio stations.

"We're very pleased to have Peter join us here at C.F. Møller. With his broad base of experience working on strategy and independent communications and marketing work, he is all set to boost C.F. Møller's position as a trendsetting Scandinavian architecture firm," says Julian Weyer, C. F. Møller partner.

A fascinating sector
The architectural industry is not a complete unknown to Peter Sikker Rasmussen, having previously worked for a period of time as an independent communications consultant for a number of architecture firms and Akademiraadet, the organisation which advises the Danish government on arts-related matters. He was also the editor of a book, 'Vejarkitektur og ingeniørkunst' (Road architecture and the art of engineering'), published by the Aalborg University Press in spring 2016.

"I've long been fascinated by the architectural industry and its mixture of art, business and civic responsibility; this is something that C.F. Møller manages to take to the next level – in fact they possibly embody this idea the most in all of Scandinavia. In other words, I'm really happy to be joining C.F. Møller," says Sikker Rasmussen.

Born in Denmark, grown in Scandinavia
C.F. Møller was founded in 1924 in Aarhus, Denmark, by Christian Frederik Møller (who designed the University of Aarhus, among others), and is today characterised by its strong Scandinavian base, with offices in Aarhus, Aalborg, Copenhagen, Oslo, Stockholm, as well as London. The company is currently working on major projects such as the Mærsk Building in Copenhagen, the Odeon Music and Theatre Hall in Odense, the Värtarterminalen ferry terminal in Stockholm, high-rise buildings in Oslo and the New University Hospital (DNU) in Aarhus.

Peter Sikker Rasmussen joined the company on 8 August and will be based at the Copenhagen office. He can be contacted by telephone on +45 6193 6857 or emailed at psr@cfmoller.com.