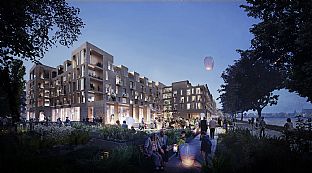 17.2.2016
C.F. Møller and Tredje Natur win Future Sølund
One of the largest and most visionary residential and nursing home projects in Danish history is being designed and realised by turnkey advisory firm C.F. Møller in collaboration with sub-consultants Tredje Natur, Bascon, Transsolar and Smith Innovation.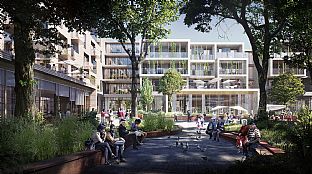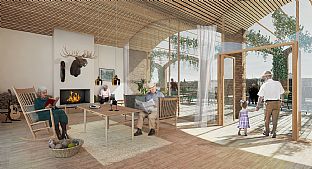 "The Future Sølund Care Center is one of the most visionary architectural undertakings in Copenhagen right now." This was the clear message from developer KAB's head of construction, Rolf Andersson, when the international architectural competition for Future Sølund was launched in 2015. As the competition winner, C.F. Møller is now the turnkey advisor tasked with realising the project, which will be a new approach to housing several generations together under one roof.
An entirely new concept
Future Sølund will offer a unique combination of 360 nursing home units, 150 residential units for young people, incl. 20 units for young people with autism spectrum disorders, 20 residential units for senior citizens, a day-care centre, three micro-shops as well as both public and private carpark facilities. "Future Sølund will be an ambitious and pioneering example of the urban welfare centre of the future. First and foremost, it will be a unique combination of dwelling types, residents and visitors. But it will also serve as a centralised anchor for boosting all of Nørrebro," explains Mads Mandrup Hansen, partner with C.F. Møller, who co-developed the winning proposal with his colleague Lone Wiggers. "We are facing a trend with a sharp focus on innovative approaches to urban planning. Fremtidens Sølund will make it possible to give elderly in need of care a whole new opportunity to live and interact with other generations. It will set new standards for welfare, well-being, security and functionality. Everything will be turned on its head, making Sølund an urban generator, with its many residents, staff and guests breathing life and atmosphere into the district," he says.
A new reference point in Copenhagen
Both the client, public housing association Samvirkende Boligselskaber v/KAB, and the City of Copenhagen and SAB's tenants are delighted at the prospect of the Fremtidens Sølund project: "We will be setting new standards in elderly care facilities day-care facilities and dwellings for both young people and senior citizens. But we want to do more than that. We want to fulfil our ambition to create architecture that can serve as a setting for multi-generational communities in the city," explains Vibeke Gravlund, project manager with KAB. "It will be a place where senior citizens, young people and children not only live close together, but also supplement and benefit from each other. This is now possible with C.F. Møller's winning project," she concludes. The Future Sølund Care Center will be a multi-storey building with a total floorage of 37,895 sq.m. and a total construction cost of around DKK 1.1b. The building will be situated at Ryesgade 20 and will be directly adjacent to Sortedams Sø lake in Copenhagen. The other participants in the architectural competition included turnkey advisory firm Henning Larsen Architects in collaboration with sub-consultants Entasis, Schul Landskabsarkitekter and Søren Jensen, turnkey advisory firm Arkitema in collaboration with sub-consultant Alectia, and turnkey advisory firm schmidt hammer lassen architects in collaboration with sub-consultants Mangor & Nagel, Kristine Jensens Tegnestue, Balslev and Lyngkilde.
Gallery