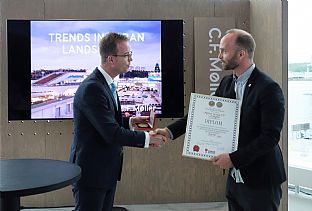 31.5.2017
C.F. Møller receives a royal award for fine results in Sweden
On 30 May, the Danish Minister for Environment and Food, Esben Lunde Larsen, awarded the Danish Export Association's Diploma and HRH Prince Henrik's Medal of Honour to C.F. Møller's subsidiary in Sweden. The architectural practice received the award for fine export results in the Swedish market, where C.F. Møller is behind several innovative and sustainable construction projects.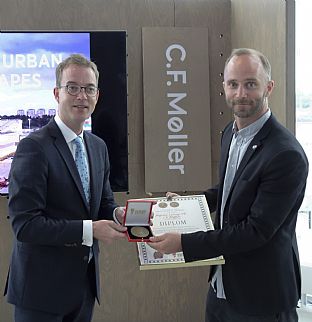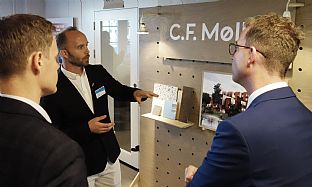 Since it was established in 2007, C.F. Møller's office in Sweden has achieved a number of interesting projects, drawing on both Danish and Swedish experience, which has generated revenue growth. Among other things, the company has implemented several sustainable solutions in the city of Stockholm.

"For example, C.F. Møller has designed Värtahamnen's new ferry terminal, the Värtaterminal, which is the central hub for Sweden's ferry links to Finland and the Baltic countries. The result is a floating transition between central Stockholm and the port area with cranes and warehouse halls, e.g using the terminal's roof as a green landscape, with a promenade, which also creates a whole new quarter of the city," says Ambassador Ove Ullerup from the Danish Embassy in Sweden.

Sustainability and cooperation safeguarding the future
In future, C.F. Møller will continue its sustainable approach to winning projects in Sweden and the rest of the world.

"We'll continue the positive development, drawing on experience from our strong portfolio within landscape, urban development and architecture. We work according to a set of Nordic values, whereby our offices in Denmark, Norway, Sweden and the UK share experience across national borders to create synergy and use the best experience as the basis for modern and innovative architecture," says Mårten Leringe, architect, partner and CEO at C.F. Møller in Stockholm

C.F. Møller has several projects on the way in Sweden. They include a number of residential projects with focus on sustainable timber construction, where the company also contributes to research in the area under the "Tall Timber Buildings" project in collaboration with Lineé University in Växjö.
Facts: C.F. Møller
• C.F. Møller is one of Scandinavia's leading and most prizewinning architectural practices. Founded in 1924.
• The company's work includes a wide range of expertise covering all architectural services, landscape architecture, design, healthcare planning and management services within user involvement, change management, space planning, logistics, client advisory services and organisation development.
• C.F. Møller has Danish offices in Aarhus, Copenhagen and Aalborg.

Facts: The Danish Export Association's Diploma and HRH Prince Henrik's Medal of Honour
• Is awarded to persons, distributors or Danish companies domiciled abroad.
• The award is given in recognition of an outstanding contribution over a number of years to promoting sales of Danish products and services abroad.
• In 2016, the Danish Export Association's Diploma and HRH Prince Henrik's Medal of Honour was awarded 14 times. The recipients represent Danish companies in markets all over the world.
• Parent companies of previous recipients describe how the award motivates employees in their export markets and that it is a good way to show their appreciation to foreign collaboration partners and subsidiaries.
• The merit award is managed by a jury comprising: HRH the Prince Consort, Niels Due, Poul Due Jensen Foundation, Ulrich Ritsing, C.C. Jensen A/S, Kurt Skov, Blue Water Shipping A/S and Jon Thorgaard, the Danish Ministry of Foreign Affairs.
• The award includes a medal, a diploma and the right to use the merit award's logo and name.
• The following sponsors make it possible to award the Danish Export Association's Diploma and HRH Prince Henrik's Medal of Honour: Arla, AVK, Blue Water Shipping, ECCO, Foss, Lundbeck, Radiometer, Danfoss, Danish Crown, Grundfos and Oticon.

For further information about the Danish Export Association's Diploma and HRH Prince Henrik's Medal of Honour: www.exportaward.dk 
Facts: Danish Export Association
• The Danish Export Association represents more than 590 Danish small, medium-sized and large export companies.
• The Danish Export Association's members are grouped in 13 networks according to sector and customer interests abroad.
• The Danish Export Association's core competences are export networks, campaigns and courses.
• A study from Aarhus University shows that, on average, members of the Danish Export Association have 49% more exports than the average Danish exporter.

Contact details:
Sebastian Schwarz, Head of Member and Executive Services and responsible for merit awards at the Danish Export Association, tel.no. +45 2366 7788, sebastian.schwarz@dk-export.dk
Gallery