C.F. Møller wins The International Architecture Award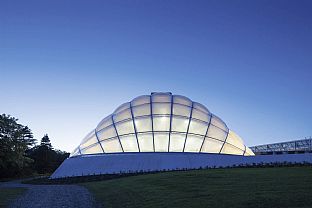 13.7.2016 | The Greenhouse in the Botanic Garden at the University of Aarhus, designed by C.F. Møller, has been announced as winner of the highly prestigious The International Architecture Award 2016 by the Chicago Athenaeum: Museum of Architecture and Design and The European Centre for Architecture Art Design and Urban Studies.
The International Architectural Awards are the highest and most prestigious distinguished building awards program that honour new and cutting-edge design. The annual program, organized by both institutions, also promotes international architecture and design to a global audience.

This year, the Museum received a record number of projects for new buildings, landscape architecture, and urban planning from the most important firms practicing globally. The 2016 Jury for Awards was held in Milan during the 15th Venice Architecture Biennale and 130 projects from over 40 nations were selected by a distinguished group of Italian architects, journalists, and educators.

"The selected new buildings and urban planning projects in this year's edition of The International Architecture Awards demonstrate a new and growing sensitivity to true human-based design and a sympathetic approach to sustainability and the environment," states Christian Narkiewicz-Laine, Museum President, The Chicago Athenaeum.

C.F. Møller's winning project consists of a restoration and transformation of the old greenhouse in the Botanic Garden in Aarhus, originally designed by C.F. Møller in 1970, and an extension in the form of a new, domed 18 metres high tropical greenhouse, in which the public can go exploring among the tree-tops.

The design of the new greenhouse is based on energy-conserving design solutions and advanced calculations that have ensured that form and energy consumption interact in the best possible manner, where shape and orientation have been chosen because this precise format gives the smallest surface area coupled with the largest volume, as well as the best possible sunlight incidence in winter, and the least possible in summer.

In September 2016, The Chicago Athenaeum, together with The European Centre for Architecture Art Design and Urban Studies will open a special exhibition of all awarded buildings at the symposium, "The City and the World" in Athens.