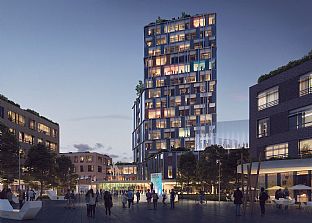 10.5.2017
C.F. Møller wins VIA University College in Horsens
C.F. Møller and C.F. Møller Landscape's proposal for the new VIA (30,000 m²) and the Innovation House (5,000 m²) has been nominated as the winner of a major architectural competition.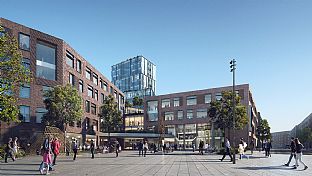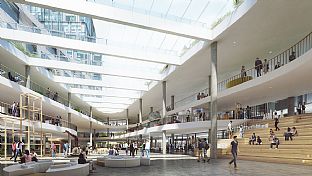 "C.F. Møller's proposal is visionary and forward-looking, and provides full potential for education programmes of high quality."

This is the wording of the adjudicators' report on the recently completed architectural competition for a large element of Campus Horsens.
The new VIA University College and Innovation House, comprising 35,000 m² in total, will together constitute close to half of the new combined campus area in Horsens, which CASA A/S in 2015 won the right to develop, with Horsens Municipality as the client.

"During the past three months we've made a concerted effort to present complete and comprehensive competition material. We've enjoyed a constructive and very exciting dialogue process, which has made a key contribution to the final project. The vision for Campus Horsens has great international potential and it's fantastic that we can help to set the framework for the education complex of the future, which makes us really proud of the result," says Michael Kruse, partner in C.F. Møller and the architect responsible for the project.
Construction for education with a beating heart
The jury's report is full of praise for C.F. Møller and C.F. Møller Landscape's project, which is the winner picked from among "three wonderfully well-designed projects, which all – each in their own way – have solved the task set".

The new VIA and Innovation House will be built at Horsens' railway station and the overall area will be called Campus Horsens. C.F. Møller's winning project was chosen by a panel of jury experts, educational institutions, Horsens Municipality and Casa.
"With a single sweep around a central connecting atrium, in a fine and simple way the project achieves continuity in VIA's education complex and the Innovation House. The central atrium will be VIA's beating heart, interconnecting the three separate building blocks and the tower, besides providing the external link to the city and the Campus Plaza. In this proposal, as much flow as possible is directed through the large central atrium at ground level, so that activity, traffic and dynamics are located at the city's level, both inside and outdoors," according to the jury expert Katja Viltoft, JJW Arkitekter, and Klaus Mikkelsen, Henning Larsen Architects.

An open campus as the starting point
A key idea in C.F. Møller and C.F. Møller Landscape's overall project for VIA is to create a venue that meets the city, and which opens up to society with an active, youthful energy flow. There was a wish to create a campus that is an image of how a modern, knowledge-based society should be formed in the future – as a venue that is wise, open, in close proximity, creative, heterogeneous, individual, and with a strong bond to the city and society.

"VIA and Innovation House are establishing a vibrant built-up environment that in a varied design idiom – and with great diversity – will invite us inside, calling on us to combine and relate knowledge and ideas across the board, and to open up and reach out," is how Michael Kruse describes the project.

"It stands as a combination of individual building sections, each with its own identity, and as one overall college with a high degree of flexibility and great spatial and content-based diversity. VIA and the Innovation House are built up according to the clear aim of establishing a robust construction concept that due to its simplicity and rational design can be achieved within the economic framework and ensure that the college – with its great flexibility – can adapt to future changes and programme adjustments, without undermining its architectural qualities," Michael Kruse says.

Achieving the vision in fine style
Konstantin Lassithiotakis, who is the executive director of VIA University College and leader of Campus Horsens, is very enthusiastic about the winning project from C.F. Møller and C.F. Møller Landscape.

"The winning project fulfils VIA's vision for the new campus complex in fine style and matches our many different education programmes within engineering, construction design, education and nursing. The project is an excellent solution to achieving the stronger continuity we require in relation to three dimensions: internally in VIA, at the campus with the other enterprises and institutions, and not least in relation to Horsens itself. C.F. Møller's proposal is visionary and forward-looking, and provides full potential for education programmes of high quality. It also supports Horsens as an enterprising educational city," says Konstantin Lassithiotakis.

The Mayor of Horsens, Peter Sørensen, is pleased with the two winning projects and praises C.F. Møller and RUM for the solutions achieved:
"I'm very pleased to see the proposals received. The architectural quality is really high, and these are two good firms that understand the importance of creating an exciting and contemporary campus complex. The drawings clearly reflect our vision of a campus not just for the students, but also for the entire city. This makes me really happy," he says.

C.F. Møller was in competition with the local architectural practice, RUM, as well as Arkitema. Besides the competition for VIA and the Innovation House there was a concurrent competition for the new Social and Healthcare College at Campus Horsens. The same firms of architects took part in this competition and RUM has been nominated as the winner of the 4,500-m² educational institution.
Gallery