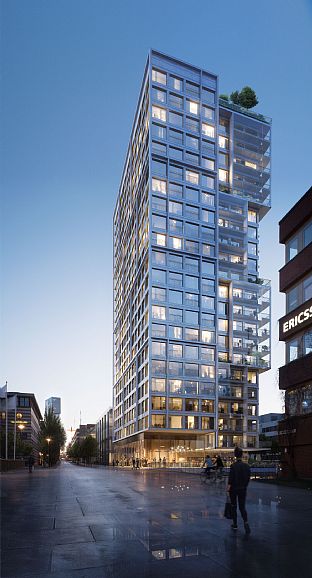 2.6.2017
C.F. Møller wins competition with an innovative high-rise building
C.F. Møller has won another competition to build an innovative high-rise building. This time for Aros Bostad AB and Vasakronan, for whom C.F. Møller is to design a new high-rise building in central Kista in Stockholm.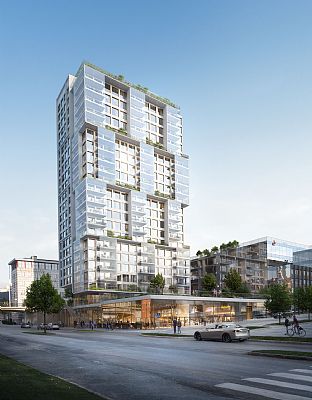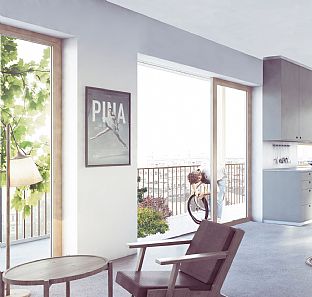 Kista, north of the centre of Stockholm, is developing from a hub for some of Sweden's most innovative companies into an attractive, modern residential area. C.F. Møller is now contributing to this development with its winning Geysir proposal – a high-rise building that will be an important element of developing this urban quarter.
"With its strong basic concept and stringent architecture, the Geysir proposal wins the competition for a new residential complex in Kista for Aros Bostad and Vasakronan. With elegant volume displacements and double-sided façade finishing, Geysir creates interesting silhouettes and spaces. Geysir has great potential to lift the square, interconnect Kistagången and Isafjordsgatan, and attract residents to the heart of Kista," the jury panel said about their choice of C.F. Møller's proposal as the winner of the competition.
Green and urban gathering point
A green oasis on the roof will strengthen Kista's existing green profile, by highlighting these green elements as part of the coming development. Fantastic residential qualities can arise from combining urban qualities with green elements.
"The panoramic views of Stockholm, green rooftop terraces and a lively ground floor – where residents can interact with all the people who work and study in Kista – will form the setting for modern living," says Mårten Leringe, CEO of C.F. Møller in Stockholm.
The tower is divided into two volumes which are offset in section. This gives the building a clear character and also creates double-high rooms towards Kistagången, with wind-shielded rooftop terraces at the very top. In total there are 220 flats of varying sizes.
Innovative high-rise building
Geysir is the latest addition to a series of high-rise projects from C.F. Møller that are contributing to developing social qualities in residential areas, and particularly in multi-storey buildings. In Antwerp, a high-rise building is being constructed that is characterised as an "elevated village". The project is investigating opportunities to create small social communities in a larger residential complex. The project for Västerås' new landmark, "Sjömärket", will create a green park on the building's 17th floor, and the complex will have a hybrid structural design, with half of the building as a timber structure.
In Oslo, the "Krystalklar" project is being developed with KLP, to contribute to an attractive city environment up to the central station. In the University of Copenhagen's "Maersk Tower", which opened earlier this year, the opportunity for researchers and students to meet and interact is a key architectural concept in the building's design, giving a boost to research in Denmark.
Gallery