COMMENCEMENT OF CONSTRUCTION OF TIUNDA SCHOOL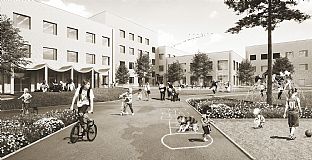 20.4.2016 | On 20 April, the first bricks for the new Tiunda School were laid. Both children and nursery schoolchildren helped to start the construction of this new lower secondary school in Sweden.
Over 100 guests were present on Tiunda School's soccer pitch when the groundbreaking ceremony for this major school project was held. The Swedish project, designed by C.F. Møller, was also presented, with sketches, images and models showing how the school and the area will look when the bell rings for the very first lesson in the autumn of 2018.

"This is a historic day, marking the commencement of the construction of Tiunda School – a modern school for modern pedagogical methods," said Caroline Andersson, chair of the education committee of Uppsala Municipality, at the groundbreaking ceremony.

"Pupils and staff will be able to work in new ways in rooms that can be adapted to groups of various sizes, and in different environments,
instead of traditional classroom teaching," she said.

A big role to play
On its completion, Tiunda School will be one of Uppsala's largest lower secondary schools, accommodating over 1,000 children and pupils aged 0-15. The school's nursery school will take 144 children, while the actual lower secondary school will have 900 pupils. A new sports hall will also be built on the site of today's current sports hall.

"Tiunda School is an important project for Uppsala. It will serve Luthagen, which is a vital and expansive quarter with many new residents, and where new construction meets a older, traditional quarter with many varied architectural features," explains Mårten Leringe, partner and head of C.F. Møller Sweden.

"The school building's size and design match the number of pupils and how the school is organised. The school is built up as blocks that are around
22 metres in breadth and depth, but with varying storey heights. Each block's footprint is equivalent to the size of a 'team arena', for around 135 pupils," he says.

Creating synergy
Combining school, sports hall and nursery school in one project is based on a clear philosophy of cohesion, which can play an important role in the education and schooling of children and young people," Mårten Leringe emphasises.

"The school is a good example of how we can work with cohesion and synergy between nursery school, school and the individual pupil. With a simple transition between the various age levels, we can ensure that pupils of Tiunda School feel confident and secure at school," he says.

In the first instance, the school's new sports hall will be built, for completion in 2017. The actual school will be ready in the autumn of 2018.