Competition for Ballerup Trafikknudepunkt (Traffic Hub)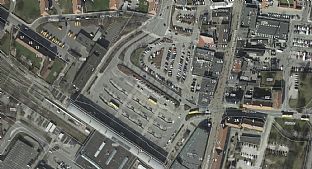 3.2.2016 | Realdania and Ballerup Municipality have selected C.F. Møller and C.F. Møller Landscape, together with MOE, as one of four participants in a project competition to kickstart Ballerup.
Ballerup is one of three municipalities that have been picked to receive support for the achievement of an urban densification project that will be used as an example project for other municipalities. C.F. Møller Landscape is now to make its bid for how Ballerup town centre, around the station area, can be developed, with focus on sustainable development.

"We are very pleased that, once again, we have been selected for one of Denmark's major ambitious urban development and sustainability projects," says Lasse Palm, department manager at C.F. Møller Landscape, about the prequalification.

The urban densification project concerns a 25,000 m² area at Ballerup Station, of which the station forecourt accounts for 12,000 m². In this competition, the participating teams will provide an outline proposal for a new construction plan for the entire area. This must illustrate where and how much can be densified, and how this urban densification can help to ensure an attractive and interesting town centre.

Station forecourt as a new urban space
The first stage of the project will be the conversion of the present station forecourt into a compact bus terminal and new urban space. The station forecourt is crossed by 20,000 people on a daily basis, as the most central and most visited square in Ballerup.

"Ballerup Trafikknudepunkt is an ambitious and complex urban development project. This is an interesting and challenging assignment because it insists on deploying the best financial and urban planning framework conditions for the realisation and transformation of Ballerup town centre into an attractive new urban space," says Lasse Palm.

"This means that the project is a perfect match for our vision of a holistic approach to sustainable urban development and mobility, but also the urban development projects we are currently working with, such as City to the Water in Randers and climate protection of the town and port of Lemvig," he says.

A pioneering project
One of the strongest elements of the Ballerup assignment is that the project will be based on the town as it exists and functions today. This both requires and necessitates a holistic view of the project, according to Lasse Palm.

"Kickstarting Ballerup will create a sustainable station centre in this suburb and the municipality's vision is for this to attract visitors, citizens and commercial operators, as well as providing a basis to create a framework for urban densification, with centrally located homes," he says.

"This assignment serves to indicate how we can continue to work with urban densification and development projects, which will be an important factor in many Nordic and European countries in coming years. Based on the town as it is now, we must show a way of moving forward. This is quite essential for a successful project," says Lasse Palm.

C.F. is one of four turnkey advisers selected to take part in the competition. The other participants are COBE with Tyréns AB, Hansen, Carlsen and Frølund and Gottlieb Paludan with Sweco and SLETH , as well as SLA with Holscher Nordberg Architects and Atkins Danmark. The project is expected to be inaugurated in June 2018.