Competition for a multifunctional building in Norway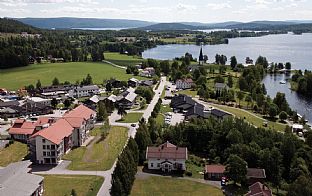 4.2.2016 | C.F. Møller Norge has been prequalified for the competition to create a new lighthouse project in the Norwegian town of Sand in Nord-Odal. This building will include a bank, library and flats.
C.F. Møller's architectural practice in Norway will be competing with three other prequalified teams to create an example project that can develop the town of Sand as a municipal centre in Nord-Odal, Norway.

The new multifunctional building will be a key player in the urban development of the small town into an administrative centre that also houses a cultural venue, cinema, restaurant. motel, everyday commodities stores, nursery school, homes for the elderly, and much more.

"This is an exciting task for us. It's an ambitious project, since we have to find a unique approach to developing one of the smaller, yet still central, municipal capitals. We need to take an ambitious approach in order to hit the mark and find a way to, hopefully, make Sand even more exciting, but also an example for other, similar areas," says Christian Dahle, associate partner and general manager of C.F. Møller's office in Oslo.

Sand to be profiled
Sand's new building will help to profile the urban centre's development.

"We'll be creating a building that makes a positive contribution to Sand's development. A key aspect will be what the project can give back to its surroundings. The new bank, library and flat project must therefore also be an attractive everyday meeting place for Nord-Odal's residents. People must find it natural to pay the area a visit; that's really essential," says Christian Dahle.

The project will be developed on a 2,000-m² site, with full use of the area so that the functions required by the municipality are in harmony with the actual conditions.

"We're continuously raising our profile for urban development projects, and throughout the C.F. Møller Group we're constantly engaged in new projects for the future-proof development of both large- and small-scale urban centres," says Christian Dahle.

C.F. Møller Norge will be competing for the development of Sand with Reiulf Ramstad Arkitekter, ASAS arkitektur and Helen & Hard.