Denmark's Minister of Foreign Affairs visited C.F. Møller project in Stockholm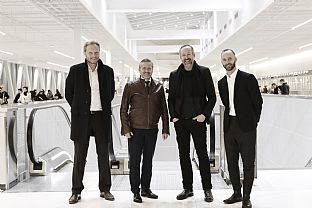 16.12.2016 | On Thursday, 15 December, the C.F. Møller-designed ferry terminal i Stockholm was visited by Minister of Foreign Affairs Anders Samuelsen, who was in Stockholm to hear about Danish-Swedish cooperation in developing Stockholm.
Stockholm is one of the world's fastest-growing cities. During the last ten years, the population of the Stockholm region has increased by 470,000 people.
This urbanisation means that the Stockholm region is investing strongly in new residential construction and infrastructure development. A good example of this is Stockholm's new ferry terminal, the Värta terminal. It is designed by the C.F. Møller firm of architects, with offices in both Sweden and Denmark, and the terminal plays a central role in the development of a new urban quarter close to the harbour, by combining new infrastructure with urban park. It is was therefore the obvious venue for the foreign minister to see and meet a number of Danish and Swedish parties involved in Stockholm's development, for a round-table meeting on the cooperation across the Sound.

Innovative Danish-Swedish cooperation
Mårten Leringe, partner and architect at C.F. Møller in Stockholm, welcomed everyone to the round-table meeting, which he also took part in, together with Mads Mandrup Hansen from C.F. Møller in Copenhagen, who is an architect and the partner with design responsibility for the Värta terminal.
"We're really pleased that the foreign minister chose us as the venue for the round-table meeting, since we consider the Värta terminal to be a striking example of innovative cooperation between Sweden and Denmark on creating new solutions for the development of Stockholm. This cooperation also includes our other offices in Scandinavia and England. We've good experience of how this creates innovative and highly location-specific architecture," says Mårten Leringe.
The event was also attended by representatives from Stockholms Havne, Invest Stockholm Business Region AB, Construction and Infrastructure Business Sweden, Per Aarslev A/S, Rambøll Sverige, altan.dk, Arkitema, the Danish Construction Association, and representatives from the Ministry of Foreign Affairs in Copenhagen and the Danish Embassy in Stockholm, including Ambassador Ove Ullerup.

Innovation and sustainable solutions
C.F. Møller was founded in Aarhus and with its staff of around 320 people is today one of Scandinavia's largest and most prize-winning firms of architects, with offices in Aarhus, Aalborg,Copenhagen, London, Oslo and Stockholm.
The architecture is characterised by innovative and sustainable solutions based on Scandinavian values, contributing to new international standards.
The office in Stockholm was established in 2007, when C.F. Møller acquired Berg Arkitektkontor. Since then, C.F. Møller has achieved a number of large projects in Sweden by combining local insight with Danish architectural traditions. This combination contributes to unique and innovative architecture in Sweden, and also in Denmark and the other countries in which C.F. Møller has activities.

Denmark should take inspiration from Sweden
Mads Mandrup Hansen has worked on projects in Sweden since the takeover of Berg Arkitektkontor and has personally drawn continuous inspiration from this cooperation, and also believes that Denmark in general can benefit.
"Naturally, it is a pleasure to work with our Swedish colleagues, and we can give each other good inspiration. In the case of the Värta terminal, I also believe that in Denmark we can learn from Stockholm's high level of ambition and wish to retain central port functions and the port setting as the focal point of the city's development, which makes special demands of the architecture, rather than separating city and port, and sending infrastructure out of the city," says Mads Mandrup.
Current projects underway in Sweden include Biomedicum, a new centre for cancer research at Karolinska Instituttet in Stockholm totalling 70,000 m2, the master plan for the transformation of Slussen in Stockholm and a 24,000-m2 expansion of Swedish defence capacity on Gotland.