Development of Aalborg harbour front awarded Town Planning Prize 2016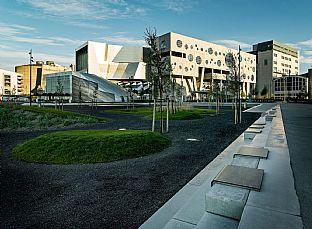 7.10.2016 | Aalborg Municipality has won Town Planning Prize (Byplanprisen) 2016 for the development of the Aalborg Harbour Front, for which C.F. Møller developed the master plan.
"A vibrant harbour front with plenty of life and a good physical and visual connection with the city's many new squares." This was the jury's commendation, securing Town Planning Prize 2016 for Aalborg Municipality.
C.F. Møller developed the master plan for Aalborg Harbour Front in collaboration with Aalborg Municipality, helping to gain Town Planning Prize 2016 for the municipality.


The publication of the award states:"Aalborg Municipality is awarded Town Planning Prize 2016
for sustained work to achieve the many different projects and urban spaces which contribute to the harbour front." The award was announced at the Urban Planning Conference in Malmö, Sweden, on 6 October 2016, where 650 planners and politicians gathered to discuss the transformation of towns and cities. The Town Planning Prize is backed by the Danish Town Planning Institute and the Danish Association of Architects.

Aalborg Harbour Front features residential complexes for young people, Musikkens hus, Utzon Center, Nordkraft, harbour swimming baths, Jomfru Ane Parken, Slotspladsen and Aalborg University as some of its key elements, creating some good facilities and recreational opportunities for the people of Aalborg.

"The urban development we have seen along the harbour front in Aalborg has required both vision and courage, which are exactly the qualities needed to receive the Town Planning Prize. The projects ensure public access to the harbour and the sea, and complement each other perfectly. This is a harbour for everyone and a fine beacon of inspiration for everyone engaged in urban planning," says Maj Green, Chair of the Board of the Danish Town Planning Institute."