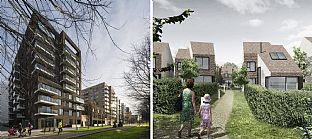 4.5.2016
Double shortlisting for the Housing Design Awards
C.F. Møller is shortlisted for the 2016 Housing Design Awards with one project in each of the categories Completed Schemes and Project Schemes.
2016's Housing Design Awards has received the highest number of entries the national programme has seen in its 7 decades, and a mix of 95 Completed and Project entries have now been shortlisted from the 201 entries.
Parkside Community
In the Completed Schemes category, C.F. Møller's project The Moore at Greenwich Peninsula Riverside, designed for Knight Dragon, has been shortlisted amongst other prestigious designs from London and the rest of England. The Moore is located at Greenwich Peninsula's central park, and is a mix of private, shared ownership and social rent tenures comprising 144 homes, formed of two 10-storey buildings flanking a raised landscaped garden podium at first floor level, combined with two terraces of family housing.
Sustainable Village
The Project Schemes category shortlist features C.F. Møller's Golden Mede residential developments in the historical village of Waddesdon, Buckinghamshire for the Rothschild Foundation. Responding to an ambitious brief, the project creates an organic extension to the village that brings the natural environment into the heart of the new housing development, and offers a variety of high-quality sustainable homes comprising sixty-five houses and ten apartments, which resonate with the craftsmanship found in the local historic buildings. Winners will be announced at an evening ceremony led by the housing and planning minister. The event will take place in London on 11th July.
More about The Moore
More about the Golden Mede Housing in Waddesdon