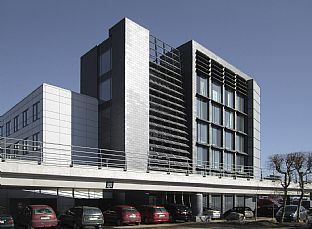 9.11.2017
Energy savings in innovative office building in focus
A new report, made by Ekolab in collaboration with ELFORSK, on alternative and energy-saving methods for establishing cooling as part of the thermal comfort of buildings, highlights Aarhus Municipality's innovative office building designed by C.F. Møller Architects as an example of how energy consumption can be greatly reduced while improving the indoor climate.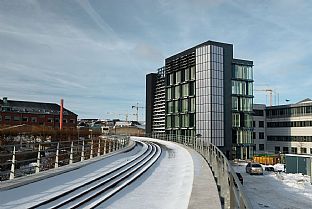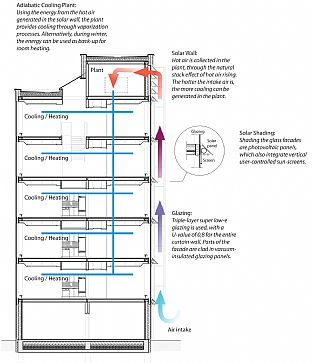 The five-story office building, located in a development area at Aarhus Harbor, was taken into use in 2010 as a new landmark for energy architecture in Aarhus. Due to the shape of the plot, the building has a large south-facing facade and thus a large solar influx, and the goal of the client, the Aarhus Municipality, was to create a pioneer design for an office building with energy consumptions at passive house level and a good indoor climate.

The building was therefore equipped with a number of special measures that, in addition to effective solar screening, high insulation values and integrated solar cells, also include the innovative solar-powered cooling plant, which has now proven its worth through several years of service.

The plant consists of an integrated 200 m2 solar wall in the facade, which forms a vertical element in the building's corner, extending over all storeys of the building. This solar wall collects energy which it uses to warm up the ventilation air to the offices in winter and to cool the offices in summer via a building-integrated adiabatic cooling system that can convert the heat energy to cold as needed. The requirement for the plant was that it should be able to provide all necessary cooling in the building and, in addition, make a large contribution to heating in the winter months.
 
As the report describes, the plant has been performing to meet these requirements, ensuring that no electrical energy has been used for cooling, and has reduced operating costs for cooling and heating by approx. 50% compared to conventional refrigeration/heating solutions.
The report concludes that the potential for alternative cooling methods is high, with the possibility of major energy savings and environmental benefits, not least because overheating in buildings is an increasing problem and future focus area. At the same time, however, there is a lack of knowledge and insight into the efficiency of alternative solutions, and therefore concrete operational experiences like those of the municipality of Aarhus are important, showing that a high degree of sustainability can be achieved by delivering of comfort cooling (and the resulting positive effects on indoor climate and productivity of employees) via renewable sources.
 
The company SolarCooling was chosen as the supplier of the system, based on their experience with solar walls, indoor climate and cooling components; while C.F. Møller Architects designed the building, including the visual expression of the solar wall, in collaboration with Alectia as engineers.
 
The full report from Ekolab (in Danish) can be downloaded here.