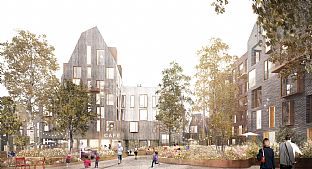 14.2.2018
FINALIST IN URBAN DEVELOPMENT PROJECT IN SWEDEN
The Galten quarter in Lund, Sweden, is to be developed, and with its proposal of a mini-city, where good neighbourship and green surroundings are in focus, C.F. Møller Architects is one of the last two finalists that can win the assignment.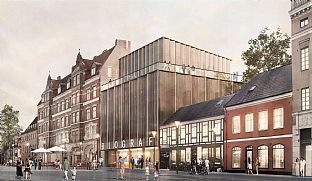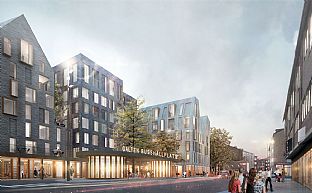 Galten is a new quarter in the heart of Lund, which, according to C.F. Møller Architects' proposal, with its own shops and urban spaces, a cinema and a large green courtyard, creates a mini-city with its own unique identity, where everyday life, good communities and proximity to green surroundings can be enjoyed.

The quarter is defined in C.F. Møller Architects' proposal as a block of flats that encloses the entire site and leaves space for a large green courtyard at the centre. The courtyard garden's lush space contrasts with the urban cityscape of the exterior, but both the exterior and the interior are designed with great care to create varied spaces for recreation and activities that generate life and communities.
The building is divided into smaller building carcasses which are displaced in relation to each other to create squares and recreational spaces along the edge of the complex. The façade materials primarily consist of brick and wood, but vary in colour and design from one building carcass to the next.
Vibrant urban space
The buildings are vibrant, with varying heights, a broken roof landscape, and attics and bay windows – which are all elements that reflect Lund's distinctive and charming architecture, but in a new interpretation.
On the ground floor there are public functions such as shops, a cinema and a café, to create a lively and active street life. Between the public functions there are a series of passages connecting the exterior city space with the interior courtyard garden. The courtyard garden is divided into areas of varying sizes, to embrace many different activities. The courtyard garden has both public and semi-public areas that are separated by shrubs and wells for rainwater harvesting.
The homes are primarily located on the first floor and higher up. There are homes of several different sizes, but regardless of their size, all homes have at least one balcony and an inflow of daylight from two sides.
Next steps
C.F. Møller Architects, in cooperation with C.F. Møller Landscape, is behind the proposal for the development of Galten, and work will now continue to further specify the proposal.
"We're pleased that the proposal has been well-received, and now we're now looking forward to further specifying our bid in collaboration with Lund Municipality and Norcap, based on the feedback we've received concerning the proposal," says partner and architect Lone Wiggers.
The second and last finalist in the competition is Marge in Sweden. Originally, White Architects were also included in the competition. In total, there are 20,550 m2 of mixed functions to be located in the area.
The client is CentrumShopping Lund AB, owned 50/50% by NorCap Development A/S and Wästbygg AB. The project will be developed in close cooperation with Lund Municipality.
Gallery